Principe Borghese Oven-Roasted Tomato Sauce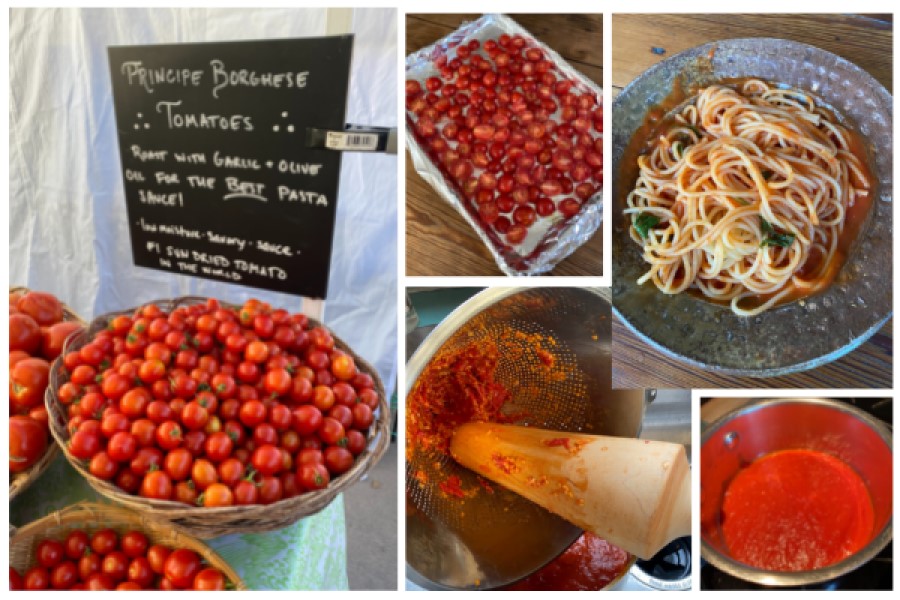 Until Vagabond Farmers brought the tomato variety Principe Borghese to market, I'd not encountered these tomatoes. Their shiny red plumpness – somewhat larger than cherry tomatoes – caught my eye, and so did one of farmer Osiris' signs: "Roast with garlic & olive oil for the best pasta sauce!" I couldn't resist taking some home with me.
This won't be the last time I roast Principe Borghese tomatoes. Thank you, Vagabond Farmers.
To make the sauce, I cut the tomatoes in half lengthwise and placed them on a foil-lined jellyroll pan, drizzling them with olive oil and minced garlic and sprinkling them with freshly ground black pepper and salt. I roasted them for forty-five minutes at 375 degrees, turning them now and then.
After I took them from the oven and they were cool enough to handle, I strained them through a sieve. They make a creamy, thick sauce with a sweet flavor. I heated the sauce as I cooked spaghetti, adding a couple of basil sprigs and a little water from the spaghetti pot to thin it a bit before tossing it with the spaghetti.
This locally inspired recipe is brought to you by Pam Walker. Pam is an avid home cook, writer, and local farm and food activist who is also a board member of the Santa Fe Farmers' Market Institute. Thank you, Pam, for helping inspire us to use locally sourced ingredients!