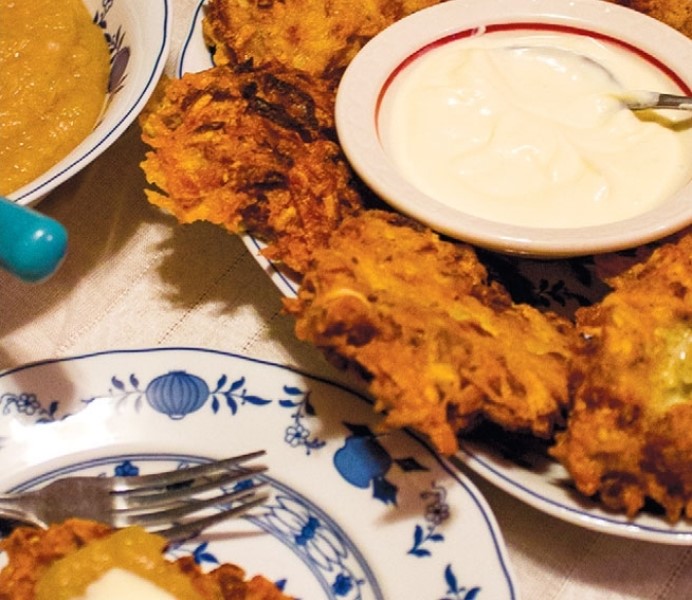 Image courtesy of Edible.
Long, long before I heard of latkes – since before I can remember, in fact – I enjoyed potato patties. My mother made them with mashed potatoes leftover from Sunday dinners. Without measuring anything but instead going by feel and sight, she combined mashed potatoes with beaten eggs, a little flour, and a little salt and pepper. Then she heated Crisco or some other shortening in a cast iron skillet, shaped the mashed potato batter into patties, and fried them till they were slightly brown and crisp. I loved them and still do.
But every now and then, I try out a fancier version and make some sort of latke. This week, the Edible Communities featured latkes in honor of Hannukah. This is one of them, featured previously in the November, 2015, issue of Edible Grande Traverse magazine.
5 large Yukon Gold or russet potatoes (about 3½ pounds)
3 eggs
2 large onions, diced small (about 2 cups)
3/4 cup organic flour, gluten-free flour, or matzo meal
vegetable oil for frying
1 tablespoon salt
black pepper to taste
Shred potatoes using either a food processor or a hand grater (some Jewish cooks say that they taste better if done by hand). Place shredded potatoes in a large bowl of cold water. Take handfuls of the shredded potatoes and wrap them in the cheesecloth or thin towel. Squeeze gently but thoroughly over the bowl, reserving the liquid for later. Collect the squeezed-out potatoes in a bowl, you should end up with about 7 cups of shredded potato.
Beat eggs well in a large bowl. Place the squeezed shredded potato into the bowl with the beaten eggs. Add onions and flour or matzo meal to the egg and potato mixture and stir until mixed well.
Start heating oil in a large frying pan or Dutch oven over medium high heat.
Take the bowl of the brown potato water to the sink, and pour out the water very carefully and slowly to reveal the potato starch that has settled to the bottom. Pour off nearly all the water, and then add the starch to the potato mixture. Stir gently to combine.
Stir in salt and pepper. (It is important to wait until now to add salt; adding it sooner will cause the potatoes to leach extra moisture.)
Make a small test latke by dropping a tablespoon of batter into the hot oil. When it is golden brown and firm, turn it with a long-handled serving spoon or slotted spoon. When both sides are a lovely golden brown, take it out, taste and add salt or adjust heat if necessary.
Use a large serving spoon or a measuring cup to drop batter for three to five latkes into the pan. (I usually can do five at time in my large pan.) Be sure they are well cooked before turning; they should be quite firm and easy to turn. Cook until both sides are golden brown.
Keep finished latkes on a towel-lined platter, or a rack set over a pan, to drain a bit as you cook the remaining batter. You can keep them in a warm oven if you are making a larger batch. Serve warm, topped with warm applesauce and a helping of sour cream or crème fraîche; I prefer the latter as a gentle complement to the applesauce.
Latkes can be stored in the refrigerator for up to a week; they can also be frozen although the texture will change somewhat.
This locally inspired recipe is brought to you by Pam Walker. Pam is an avid home cook, writer, and local farm and food activist who is also a board member of the Santa Fe Farmers' Market Institute. Thank you, Pam, for helping inspire us to use locally sourced ingredients!