Linguine With Melted Onions and Cream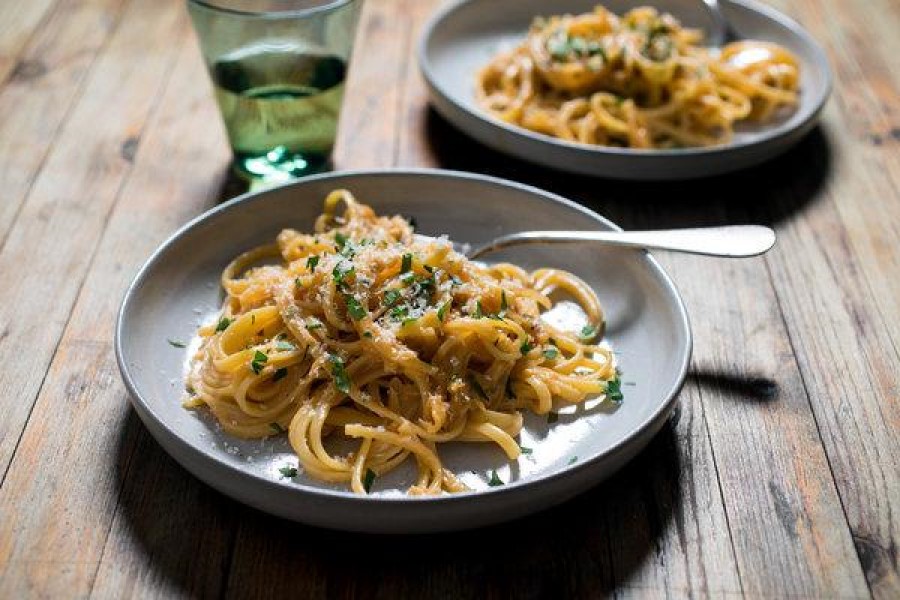 Image courtesy of The New York Times.
Caramelized onions are the main feature of this recipe, enhanced by heavy cream, Parmesan cheese, a little tomato paste, maybe some parsley, and I add garlic to the mix and sometimes also shitake mushrooms. It comes from a 1985 cookbook that was reissued this year. It's called The Good Food: A Cookbook of Soups, Pastas and Stews by Julie Strand and Daniel Halpern. Julia Moskin recently included it in the NYT "The Thanksgiving Leftovers Everyone Forgets."
I prefer medium-sized and small onions to large ones, and appreciate the range of sizes generally available at the market these days. Garlic, too, continues to be available, and so is parsley. Currently, my favorite garlic is from Revolution Farm, and my favorite parsley is from Bodhi Farms.
4 tablespoons unsalted butter
4 tablespoons olive oil
4 large onions, very thinly sliced (you can do this in the food processor)
Salt
1/2 cup heavy cream
2 teaspoons tomato paste, more to taste
Ground black pepper
1 pound linguine or other long, thin pasta
1/2 cup freshly grated Parmesan cheese, more for serving
Finely minced parsley, for serving (optional)
In a wide skillet with a lid, heat the butter and oil over medium heat. When melted, add the onions in batches, stirring to coat.
Reduce the heat to very low, cover and cook, stirring often, until very soft and translucent, about 30 minutes. The onions may turn light gold, but they should not brown.
Sprinkle with 1 teaspoon salt, cover and continue cooking until onions are golden and melting into a purée, 30 to 60 minutes more depending on the thickness of the onions.
In a microwave, heat the cream until warm, add the tomato paste, and stir until dissolved.
Meanwhile, bring a large pot of water with 1 tablespoon salt to a boil over high heat for the pasta.
When the onions are cooked, stir the cream mixture into the skillet along with a dozen grinds of black pepper. Cook, stirring, until the onion mixture is slightly thickened, 2 to 3 minutes. Turn off the heat.
Add the pasta to the boiling water and cook until tender, then drain and return to the pot. Immediately add the onion mixture and Parmesan cheese and toss together. Taste and adjust the seasonings with salt and pepper; add a little more tomato paste if the mixture needs sweetness or acidity.
Serve immediately, sprinkling each serving lightly with parsley, if you'd like. Pass more cheese at the table.
This locally inspired recipe is brought to you by Pam Walker. Pam is an avid home cook, writer, and local farm and food activist who is also a board member of the Santa Fe Farmers' Market Institute. Thank you, Pam, for helping inspire us to use locally sourced ingredients!