Pork Chops with Rhubarb Sauce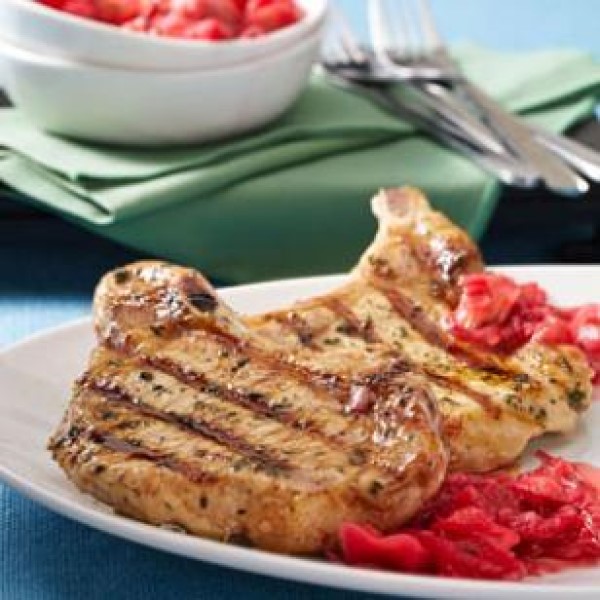 1 tablespoon fresh thyme leaves, chopped, or 1/2 teaspoon dried
1 tablespoon extra-virgin olive oil
1/2 teaspoon salt, divided
1/2 teaspoon freshly ground pepper, divided
4 bone-in pork chops, 1/2-3/4 inch thick (about 2 pounds), trimmed
1/2 cup fresh apple juice
1/2 cup beef broth
2 tablespoons honey
3 medium shallots, thinly sliced
1 1/2 cups sliced fresh rhubarb
1 teaspoon butter
Preheat grill to medium-high.
Combine thyme, oil and 1/4 teaspoon each salt and pepper in a small bowl. Smear evenly all over pork chops.
Combine juice, broth, honey, shallots and the remaining 1/4 teaspoon each salt and pepper in small sauce pan.
Cook on med-high, uncovered, until reduced by about half, 10-15 min minutes.
Stir in rhubarb and return to stove top stirring often, until the rhubarb is beginning to break down, 10-15 min minutes more.
Stir in butter.
Oil the grill rack. Grill the pork chops, turning once, until cooked through, 2 to 3 minutes per side.
Serve with the rhubarb sauce.
This locally inspired recipe is brought to you by Pam Walker. Pam is an avid home cook, writer, and local farm and food activist who is also a board member of the Santa Fe Farmers' Market Institute. Thank you, Pam, for helping inspire us to use locally sourced ingredients!