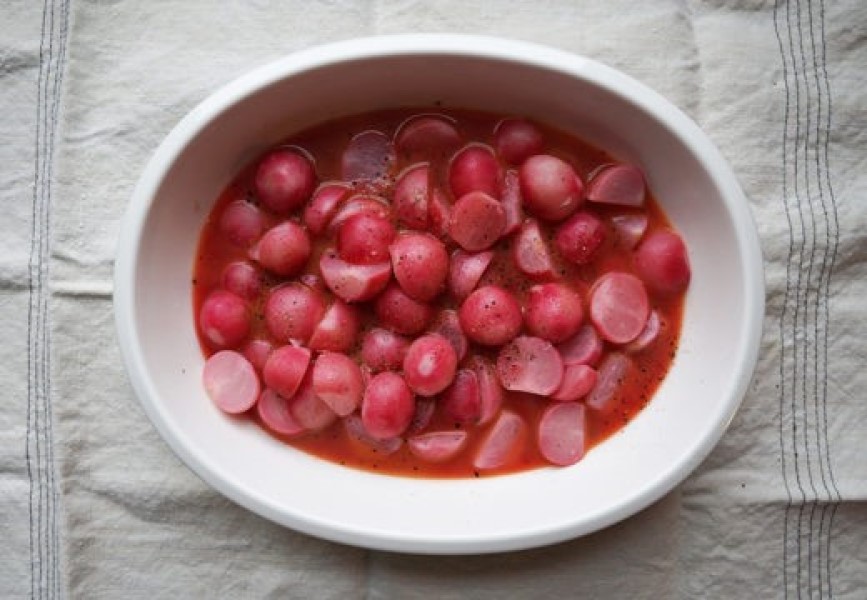 Anna Griswold, my friend and colleague at the Market Information Booth, and I often talk about food and recipes during lulls in business. Just as I was in the process of deciding on this week's recipe for the Institute blog, Anna sent me an email about this recipe for poached radishes. Good timing, both because of my deadline and also because the Market is full of beautiful radishes these days.
This recipe comes from the book Ruffage by Abra Berens. I can't wait to get my hands on it. Thank you, Anna, for this recipe and for introducing me to a new cookbook and its author.
2 bunches radishes (2lb/910g), greens removed
3/4 cup (180ml) white wine
1 cup (240ml) chicken stock (homemade if possible!)
salt and freshly ground black pepper
2 tablespoons (30g) butter
1 lemon, zest and juice
If the radishes are vastly different sizes, halve or quarter the largest ones to be roughly the same size as the small ones. In a medium saucepan, combine the wine and stock with a big pinch of salt. When bubbling, add the radishes and reduce to a simmer; the liquid should just about cover the radishes.
Cook until the radishes are just cooked through, about 6 minutes (this really depends on radishes and I have had to go as long as 15 minutes)—they will be soft with just a touch of crispness still in the center. If the liquid is reduced and slightly syrupy, add the butter. If the liquid is still very thin, remove the radishes with a slotted spoon, bring the liquid to a boil, and reduce by half.
Add the butter and lemon zest and juice, let the butter melt, and spoon the liquid over the radishes. Serve with a big pinch of salt and a grind of black pepper.
This locally inspired recipe is brought to you by Pam Walker. Pam is an avid home cook, writer, and local farm and food activist who is also a board member of the Santa Fe Farmers' Market Institute. Thank you, Pam, for helping inspire us to use locally sourced ingredients!