Apogee Spirulina's Vegan Chocolate Spirulina Energy Balls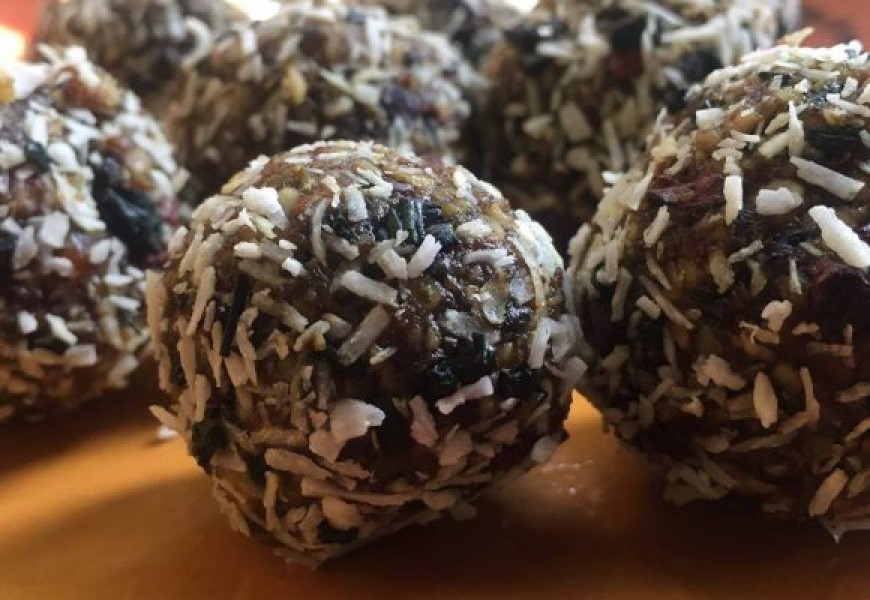 Spirulina is a blue-green algae that is packed with nutrients. Gram for gram, spirulina may be the single most nutritious food on the planet. It may improve your levels of blood lipids, suppress oxidation, reduce blood pressure and lower blood sugar. Some other health benefits of spirulina are:
Excellent in improving immune system
Aids in detoxifying the body
Increases energy levels
Decreases inflammation
The recipe below comes from Market vendor Apogee Spirulina. Their website has other recipes, such as Spirulina Green Salad and Spirulina Chia Pudding.
1/2 cup raw almonds & cashews (natural)
1/2 cup sunflower and pumpkin seeds (raw)
1/4 tsp sea salt
1 tsp vanilla extract
1 tsp Maca powder
1 tsp Apogee spirulina crunchies
1/4 cup cacao powder
1 cup dates (pitted)
3 tbsp water
1/4 cup cacao nibs
Shredded unsweetened coconut
In a food processor, grind nuts until they're finely ground.
Pulse in cacao, vanilla extract, maca, spirulina and salt.
Add the chopped dates and water until all the ingredients are blended nicely into a dough mixture. Add cacao nibs.
Roll the dough into balls
Roll the balls in cacao powder, shredded coconut, and spirulina cruchies.
Place balls in the freezer or fridge and freeze for at least 30 min then serve! Enjoy!
This locally inspired recipe is brought to you by Pam Walker. Pam is an avid home cook, writer, and local farm and food activist who is also a board member of the Santa Fe Farmers' Market Institute. Thank you, Pam, for helping inspire us to use locally sourced ingredients!