Madre Foods' OM Salmon Leek Chowder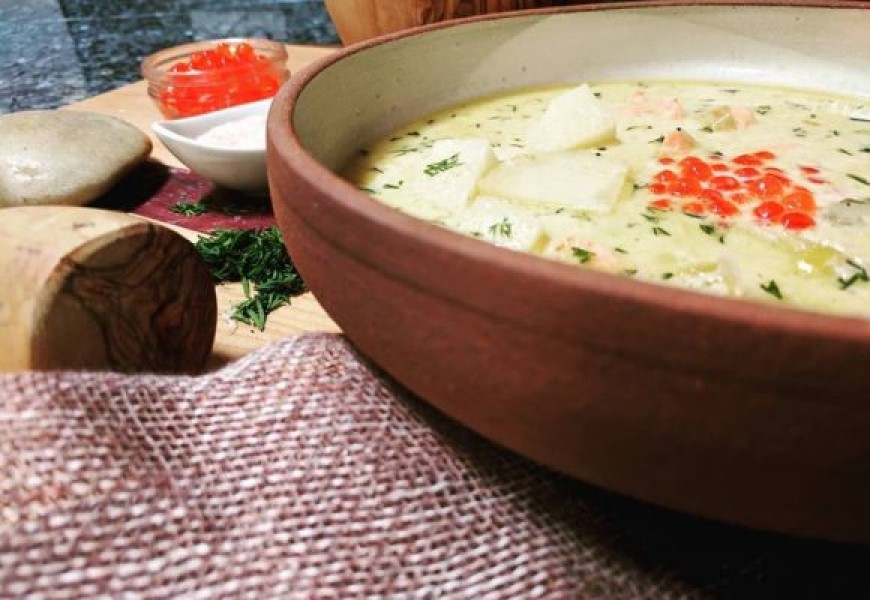 Market vendor Madre Foods specializes in nourishing foods for your gut, brain, and soul. They craft artisanal sipping broths with a wide variety of flavors and gradients. Their "favorite chowder recipe is a lighter take on traditional chowder," incorporating the Madre Foods Riptide Fish Stock, buttery leeks, and fresh roe for a touch of brine.
2 tbl ghee
1 leek (white and light green parts only)
1 tsp sea salt
1/2 tsp ground white pepper
4 c Madre Foods' Riptide Fish Stock
1 lb small potatoes
1 lb skinless wild caught salmon
1/2 c coconut cream or heavy cream
1 tbl fresh dill
3 oz salmon roe
Gently warm ghee in the bottom of a Dutch oven.
Thinly slice leek (only utilizing the white and light green parts of the leek).
When ghee bleeds evenly across the pan, add sliced leek and sprinkle with salt and pepper.
Cover the pot and let the leek sweat in the ghee until tender, usually about 8 minutes.
Meanwhile slice the small potatoes in half.
Uncover the pot, pour in Madre Foods' Riptide Fish Stock and drop in the potatoes.
Turn up the heat and simmer the potatoes in the stock until tender, usually about 25 minutes. Meanwhile cube the salmon into 1 inch cubes.
Add the salmon, cover the pot, and allow simmering to continue until the fish is opaque, typically 3-5 minutes.
Remove the pot from the heat and stir in cream and finely chopped dill.
Salt as desired and serve, adding each bowl with a dollop of salmon roe to the top.
This locally inspired recipe is brought to you by Pam Walker. Pam is an avid home cook, writer, and local farm and food activist who is also a board member of the Santa Fe Farmers' Market Institute. Thank you, Pam, for helping inspire us to use locally sourced ingredients!