Pecan Pralines Three Ways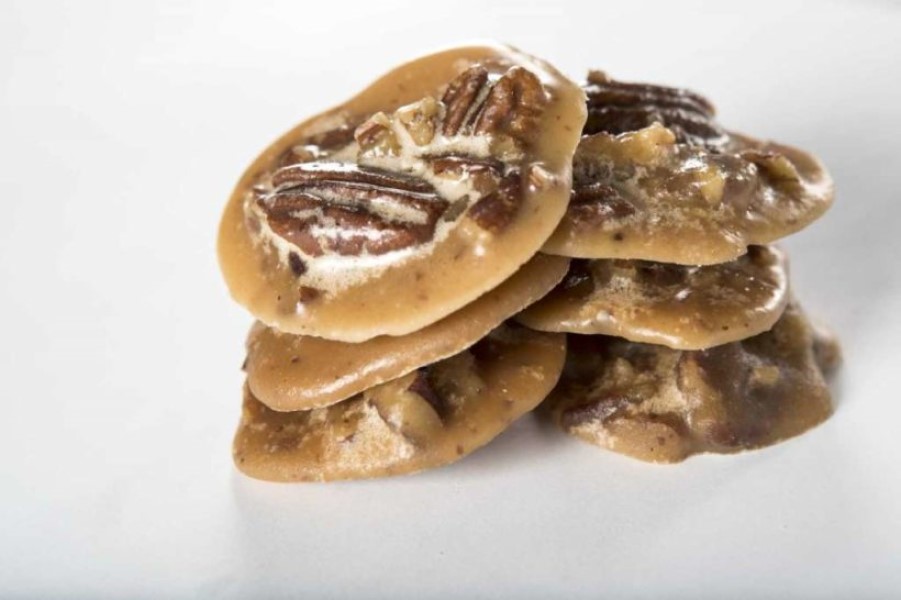 Image courtesy of the Houston Chronicle.
1 quart (about 4 cups) heavy cream
1 pound (about 2 ¼ cups) granulated sugar
1 tablespoon light corn syrup
2 cups chopped pecans
Line 3 cookie sheets with parchment paper. In a large heavy saucepan, slowly simmer cream, sugar and corn syrup over low heat. As the cream mixture simmers, be careful of boil-over in the early stages. Let the mixture reduce, stirring occasionally.
When cream mixture starts to stick to the bottom of the pan, you need to stir almost continuously until done. As the mixture reduces and the sugar starts to caramelize, the mixture becomes thicker and begins to turn light brown.
When the mixture reaches soft-ball stage of 240 degrees, take off the heat and stir in pecans until the mixture begins to pull away from the sides of the pan. Scoop out onto parchment paper with a 1-tablespoon scoop or use a teaspoon to measure out 1 tablespoon of candy.
It took a good 30 minutes of stirring to get to cook the cream/sugar mixture to get to soft-ball stage. The candies appeared glossy like a chewy caramel at first, but as they dried, they took on the familiar matte look and velvety sugar texture. Letting them dry on the sheet pan overnight got them to the Brennan's look and consistency.
7 fluid ounces (¾ cup plus 2 tablespoons) milk
1¾ cups granulated sugar
¾ teaspoon vanilla extract
½ cup chopped pecans
Pinch cinnamon
Line cookie sheets with Silpat or wax paper. Place milk, sugar and vanilla in a heavy-duty saucepan and stir to combine. Place over medium heat and continue to stir mixture until it begins to boil.
Immediately stop stirring and reduce heat to medium-low. Mixture will bubble quickly, but if it bubbles too high in the saucepan, reduce the heat a little. Allow mixture to cook for 20-25 minutes or until it is a medium caramel color. Candy thermometer should register within a couple of degrees of 240. You can also test candy by scooping a little in a spoon and dropping it carefully into a glass of water. If it hardens, it is ready.
Remove saucepan from heat. Add pecans and cinnamon and stir until candy begins to thicken. Scoop candy using a teaspoon or iced teaspoon and pour onto lined cookie sheet. Work quickly as the pralines will set quickly. Allow pralines to cool completely.
My first batch seized at the end, and I had to start again. As the recipe states, you have to work quickly. My candy began to harden and develop a crystalized texture almost immediately. This is a harder, crisper praline than Brennan's type.
Saveur adapted this recipe from MexTex: Traditional Tex-Mex Taste cookbook by Matt Martinez Jr., whose parents, Matt and Janie Martinez, founded Matt's El Rancho in Austin in 1952.
2 tablespoons butter
2 cups sugar
¾ cup milk
½ teaspoon baking soda
1 ½ teaspoons vanilla extract
1 ½ cups pecan halves or pieces
Line two large sheet pans with wax paper and 1 tablespoon of the butter and set aside.
Combine sugar, milk and baking soda in a medium pot and cook over medium heat, stirring constantly, until the mixture reaches 240 degrees on a candy thermometer (soft-ball stage), 18-20 minutes.
Remove pot from heat, add remaining 1 tablespoon butter and vanilla extract and stir quickly until completely incorporated and creamy, about 20 seconds. Add pecans and stir well to coat.
Working quickly, drop generous spoonfuls of candy onto prepared pans to form disks about 2 inches wide. Let them cool and harden completely, about 2 hours. Carefully peel the pralines from the wax paper. Serve at once or store in airtight container at room temperature for 2-3 days.
We lined our pans with parchment, so we used only the 1 tablespoon butter for the candy. This was the easiest of the three recipes; the hot candy was easy to work with in making the disks. The color of the candy was the darkest with a true caramelized sugar and nut flavor.
This locally inspired recipe is brought to you by Pam Walker. Pam is an avid home cook, writer, and local farm and food activist who is also a board member of the Santa Fe Farmers' Market Institute. Thank you, Pam, for helping inspire us to use locally sourced ingredients!