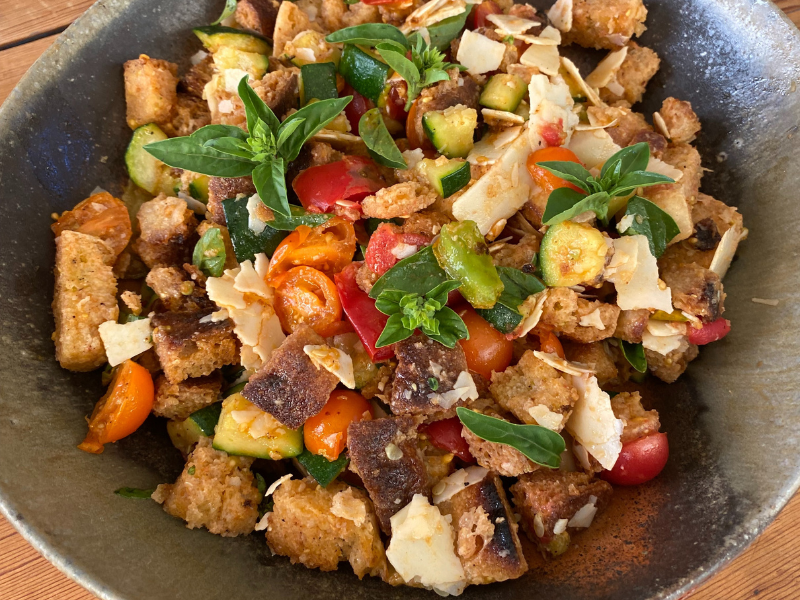 Seize the day! Late summer calls for panzanella. Zucchini and other summer squashes are plentiful, and so are many varieties of tomatoes and basil.  On one of many very hot days recently, I wanted something robust in flavor and dense in texture, and I didn't want to use the oven. Panzanella was the perfect thing. Mark Bittman's recipe in The New York Times Cooking is a great guide. In the final step, I tossed the mix not just with olive oil but with some of Peaches' excellent garlic oil, too.
3 slices of stale bread, cubed

2 tablespoons olive oil

1½ pounds cubed zucchini

1 pint cherry tomatoes, halved

Parmesan

Basil leaves

Red-wine vinegar

Olive oil
Sauté bread in a large skillet over medium heat until golden and crisp; remove and add olive oil and zucchini.
Cook until tender and lightly browned, about 10 minutes.
Toss bread and zucchini with cherry tomatoes, shaved Parmesan, basil leaves, red-wine vinegar and olive oil.
This locally inspired recipe is brought to you by Pam Walker. Pam is an avid home cook, writer, and local farm and food activist who is also a board member of the Santa Fe Farmers' Market Institute. Thank you, Pam, for helping inspire us to use locally sourced ingredients!