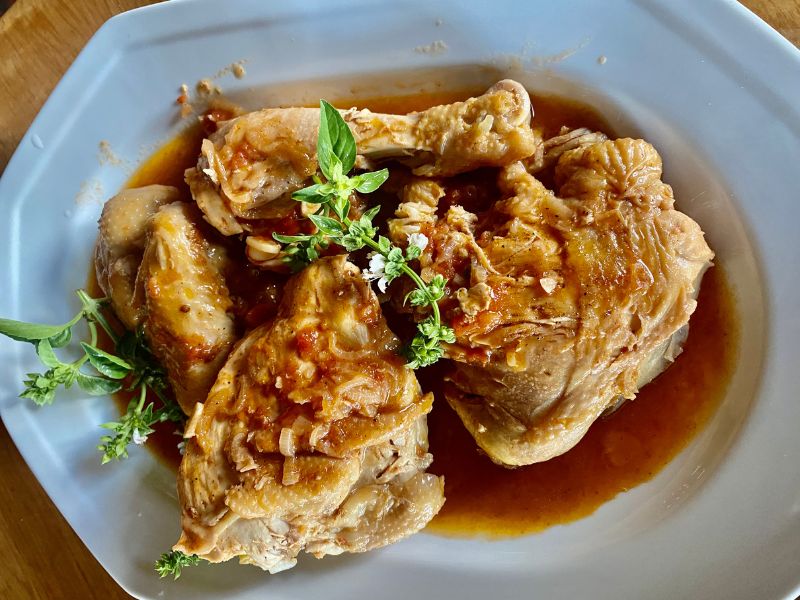 Some version or other of cacciatora is my favorite way to prepare chicken. I love one-skillet, stove-top methods, and cacciatora certainly is that. I recently purchased a spatchcocked half chicken from Lotus Farms and used a recipe from Marcella Hazan's Essentials of Classic Italian Cooking as my guide.  She titles it "Chicken Cacciatora, New Version" because it simplifies a previous version. (I reproduce it below.)
Her recipe is based on a whole chicken yielding four to six servings. I adapted it to the half chicken I bought, and it served two people generously. It is simple to prepare, and, with Lotus Farms' birds, the result is delicious, succulent eating.
One 3-4-pound chicken, cut into 6 to 8 pieces

2 tablespoons extra virgin olive oil
White wine
1 cup onion sliced very thin
2 garlic cloves, peeled and sliced very thin
Salt
Black pepper, freshly ground
1/3 cup dry white wine
1 ½ cups fresh, very ripe, firm meaty tomatoes, skinned raw with a peeler, of cannedImported Italian plum tomatoes, cut up, with their juice
Wash the chicken in cold water and pat thoroughly dry with cloth or paper towels.

Choose a saute pan that can subsequently contain all the chicken pieces without crowding them. Put in the olive oil and the sliced onion, and turn on the heat to medium.  Cook the onion, turning it occasionally, until it becomes translucent.

Add the sliced garlic and the chicken pieces, putting them in skin side facing down. Cook until the skin forms a golden crust, then turn the pieces and to the other side.

Add salt and several grindings of pepper, and turn the chicken pieces over 2 or 3 times. Add the wine, and let it simmer away until about half of it has evaporated

Add the cut-up tomatoes, turn down the heat to cook at an intermittent simmer, and cover the pan, putting the lid on slightly askew. Turn and baste the chicken pieces from time to time while they are cooking. Whenever you find that the liquid in the pan becomes insufficient, add 2 tablespoons of water. Cook until the chicken thighs feel very tender when prodded with a fork, and the meat comes easily off the bone, about 40 minutes.
Ahead of time preparation – this dish can be cooked through to the end up to a day in advance.  Let the chicken cool completely in the pan juices before refrigerating. Reheat in a covered pan at a slow simmer, turning the chicken pieces until they are warmed all the way through.
This locally inspired recipe is brought to you by Pam Walker. Pam is an avid home cook, writer, and local farm and food activist who is also a board member of the Santa Fe Farmers' Market Institute. Thank you, Pam, for helping inspire us to use locally sourced ingredients!