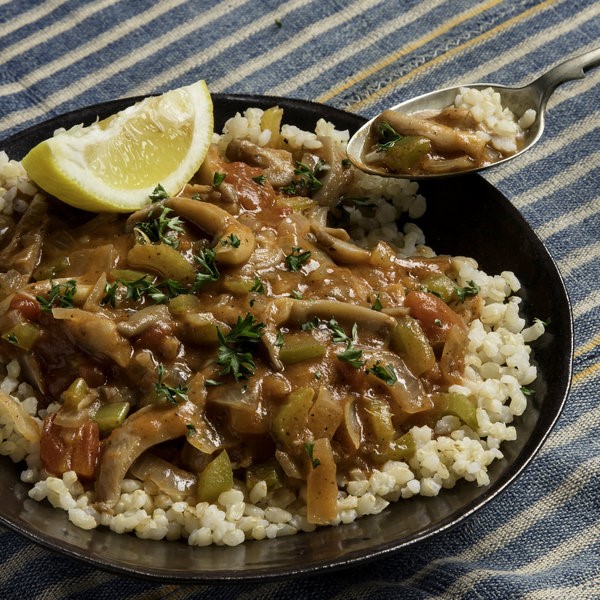 Image courtesy of The New York Times.
So many beautiful oyster mushrooms at the Market! I've often wondered how to feature them as the main ingredient, but I've not looked into it. By chance, I'm saved from the trouble by a recipe that appeared last week in The New York Times from Kim Severson, who borrowed it from Jenné Claiborne.
3 tablespoons grapeseed or coconut oil
3 tablespoons all-purpose flour
1 small yellow onion, diced
2 garlic cloves, minced
1 small green bell pepper, diced
2 celery stalks, diced (about 1 cup)
½ teaspoon salt
1 cup diced tomatoes, canned or fresh
2 ½cups vegetable stock or water (if using water, add 1 vegetable bouillon cube)
1 dried bay leaf
1 teaspoon dulse (seaweed) flakes
1 tablespoon Creole seasoning or 1 teaspoon each black pepper, paprika, and dried thyme
1 tablespoon Old Bay seasoning, more to taste
1 pound fresh oyster mushrooms, trimmed and roughly chopped (about 2 cups)
Freshly cooked brown rice, for serving
Lemon wedges, for serving
½ cup chopped fresh parsley, for serving
In a large Dutch oven or heavy pot, heat the oil over medium heat until it ripples, then sprinkle in the flour. (Test the oil by dropping a pinch of flour into the pot. If it sizzles, it is hot enough). Stirring constantly, cook flour and oil together until the mixture toasts and turns golden brown, 2 to 3 minutes.
Add onion, garlic, bell pepper, celery and salt and stir. Cook, stirring, over medium heat until the onion is translucent, about 3 minutes. Add tomatoes, stock, bay leaf, dulse, Creole seasoning, and Old Bay. Stir well and bring the pot to a simmer. Add mushrooms and simmer, stirring occasionally, until tender, about 20 minutes. Taste and adjust the seasonings with salt and Old Bay.
Serve étouffée spooned over rice, garnished with lemon and parsley.
This locally inspired recipe is brought to you by Pam Walker. Pam is an avid home cook, writer, and local farm and food activist who is also a board member of the Santa Fe Farmers' Market Institute. Thank you, Pam, for helping inspire us to use locally sourced ingredients!