Mushrooms as the Main Event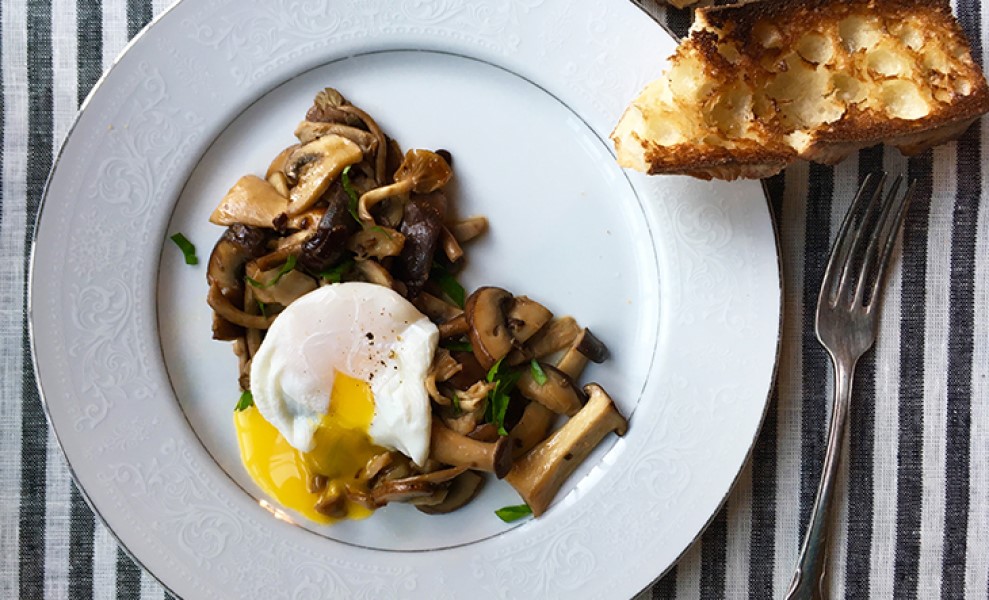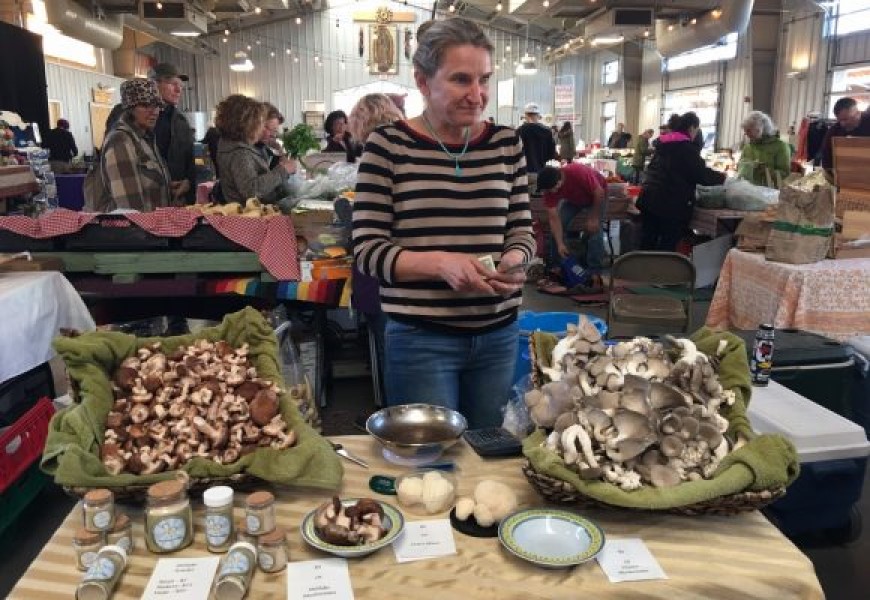 Most of the time, I eat mushrooms as an ingredient added to a salad, a soup, a sauce, or a meat braise. But the variety of mushrooms at the market – their textures and earthy scents and flavors, and, not least, their miniature, sculptural beauty – prompt me more and more often to make them a meal's main event.
A few days before last Saturday's Market, a James Beard Foundation email with an enticing yet easy recipe for mushroom ragout and poached eggs appeared on my screen. Once glance, and I knew I'd be enjoying it within the week.
The dish appealed to me all the more because the market supplied me not just with mushrooms but with most of the other ingredients, too – butter from Old Windmill Dairy, chicken stock from Pollo Real, eggs from any of several vendors, bread from one of the bakers, and garlic and shallots from a couple of current vendors (or stored in my pantry from fall markets). And thanks to Vivac's shop in the market store, I could even get white wine.
From Olivier Reginensi:
"A warm ragoût of earthy mixed mushrooms is just the thing we want to eat when temperatures drop. To make it even more comforting, chef Olivier Reginensi tops his dish off with a runny poached egg and serves some crusty bread on the side to scoop everything up."
1 stick (8 tablespoons) butter, divided
2 small shallots shallots
2 cloves garlic, chopped
2 1/2 pounds mixed mushrooms, trimmed (such as cremini, hon shimeji, white beech, trumpet, or velvet pioppini)
Salt and pepper to taste
1/2 cup white wine
1/4 cup Cognac
1 pint brown chicken base (such as Fond Brun de volaille; available at Whole Foods or 1 tablespoon chicken bouillon paste stirred into 2 cups chicken stock)
1 tablespoon white vinegar
4 eggs
2 tablespoons chopped parsley
1 baguette, sliced and toasted
Sauté the mushrooms: in a large skillet set over medium heat, heat 4 tablespoons butter until it melts. Add the chopped shallots and garlic sauté until just transluscent, about 2 minutes. Increase the heat to high and add the prepped mushrooms and season with salt and pepper to taste. Cook until the mushroom soften and their juices evaporate, about 4 to 5 minutes.
Add the white wine and Cognac and cook until reduced by half, about 4 minutes. Add the chicken base and stir to combine. Cover and simmer for 20 minutes at low heat. Check the seasoning and add salt and pepper as needed. Finish with the remaining 4 tablespoons butter and set aside until ready to serve.
Poach the eggs: bring 2 quarts water to a boil in a deep saucepan. Add the white vinegar and slowly add the eggs. Poach the eggs for 4 minutes.
To serve, place the mushroom ragoût at the bottom of 4 serving dishes. Top with the poached eggs and add chopped parsley. Serve immediately with warm toasted slices of baguette.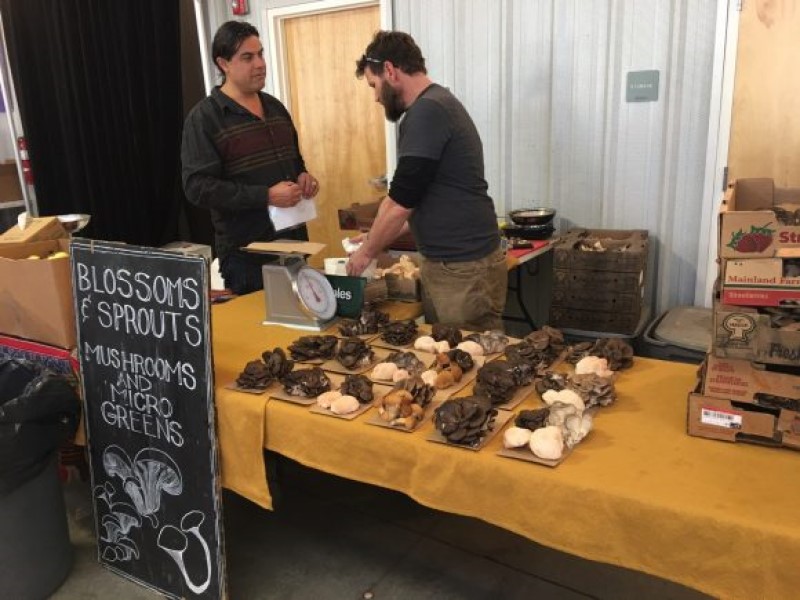 This locally inspired recipe is brought to you by Pam Walker. Pam is an avid home cook, writer, and local farm and food activist who is also a board member of the Santa Fe Farmers' Market Institute. Thank you, Pam, for helping inspire us to use locally sourced ingredients!