Minted Orange, Fennel, and Red Onion Salad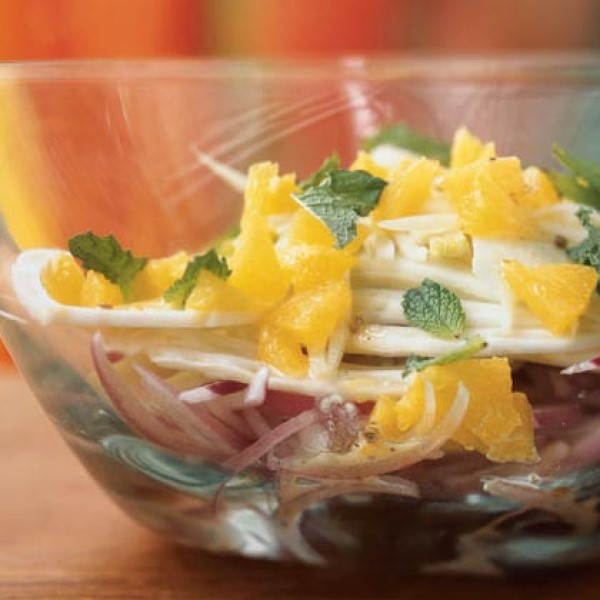 I recently bought some beautiful fennel from Malandro Farm, and found mint and red onions from other vendors, and made this salad, one of my all-time favorites. Instead of navel oranges, I sometimes use clementines. I love the textures and flavors this salad delivers.
Recipe adapted from epicurious.com and health.com
1 teaspoon coriander seeds
2 tablespoons fresh orange juice
2 tablespoons Sherry vinegar or red-wine vinegar
3/4 teaspoon salt
3 tablespoons olive oil
1 medium-large red onion
1 large fennel bulb (sometimes called anise, about 1 pound)
3 large navel oranges
1/4 cup loosely packed fresh mint leaves
Heat a dry small heavy skillet over moderate heat until hot and toast coriander seeds, stirring, until fragrant and a little darker, about 2 minutes.
With a mortar and pestle or in a spice grinder or cleaned electric coffee grinder, grind coriander to a coarse powder.
In a bowl, whisk together coriander and remaining dressing ingredients. Dressing may be made 1 day ahead and chilled, covered
With a Japanese rotary slicer or other thin-slicing device, slice onion crosswise into thin spirals or rings.
In a bowl of ice and cold water, soak onion (separate rings if necessary) 15 minutes.
Trim stalks from fennel and with slicing device, thinly slice fennel bulb crosswise.
With a sharp knife, cut a slice from top and bottom of each orange to expose flesh and arrange cut side down on a cutting board. cutting from top to bottom, remove peel and pith.
Cut oranges crosswise into 1/4-inch-thick slices.
Drain onion well and pat dry between paper towels.
Arrange fennel, onion and orange decoratively on a platter and scatter with mint.
Whisk dressing and drizzle over salad.
This locally inspired recipe is brought to you by Pam Walker. Pam is an avid home cook, writer, and local farm and food activist who is also a board member of the Santa Fe Farmers' Market Institute. Thank you, Pam, for helping inspire us to use locally sourced ingredients!