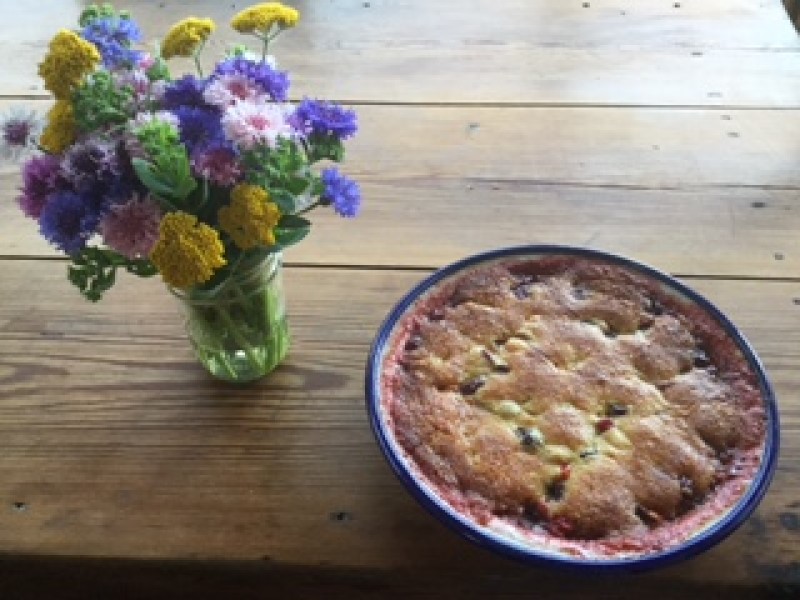 At the Santa Fe Farmers' Market these days, there are more cherries than you can shake a stick at, and that's a good thing – sweet ones, sour ones, deep red, medium red, golden. I recently combined several varieties into a cobbler, adapting Mark Bittman's recipe for blueberry cobbler. His cobbler dough is lighter and more buttery than some cobbler dough, and seems just right atop a mix of juicy cherries.
My friend John Willoughby found this recipe in a southern boardinghouse nearly 20 years ago. It's become my go-to cobbler recipe, because it's essentially perfect. I love this with blueberries, but you can make it with any fruit you like.
Cobbler dough is somewhere between a biscuit and a cookie: fluffy, a bit flaky, buttery, and at least slightly sweet. The key is not over mixing the dough; get it so that it's just combined, barely holding together, then drop it onto the filling in mounds, leaving space for steam to escape from the cooking fruit. Recipe from How to Cook Everything.
Yield: six to eight servings
4 to 6 cups cherries (or blueberries or other fruit), washed and well dried, peeled and sliced as necessary
1 cup sugar, or to taste
8 tablespoons (1 stick) cold unsalted butter, cut into bits, plus some for the pan
1 /2 cup all-purpose flour
1 /2 teaspoon baking powder
Pinch salt
1 egg
1 /2 teaspoon vanilla extract
Heat the oven to 375°F. Toss the fruit with half the sugar and spread it in a lightly greased 8-inch square or 9-inch round baking pan.
Combine the flour, baking powder, salt, and remaining 1/2 cup sugar in a food processor and pulse once or twice. Add the butter and process for 10 seconds, until the mixture is well blended. By hand, beat in the egg and vanilla.
Drop this mixture onto the fruit by tablespoon-fuls; do not spread it out. Bake until golden yellow and just starting to brown, 35 to 45 minutes. Serve immediately.
This locally inspired recipe is brought to you by Pam Walker. Pam is an avid home cook, writer, and local farm and food activist who is also a board member of the Santa Fe Farmers' Market Institute. Thank you, Pam, for helping inspire us to use locally sourced ingredients!