Dorothy's Istanbul Breakfast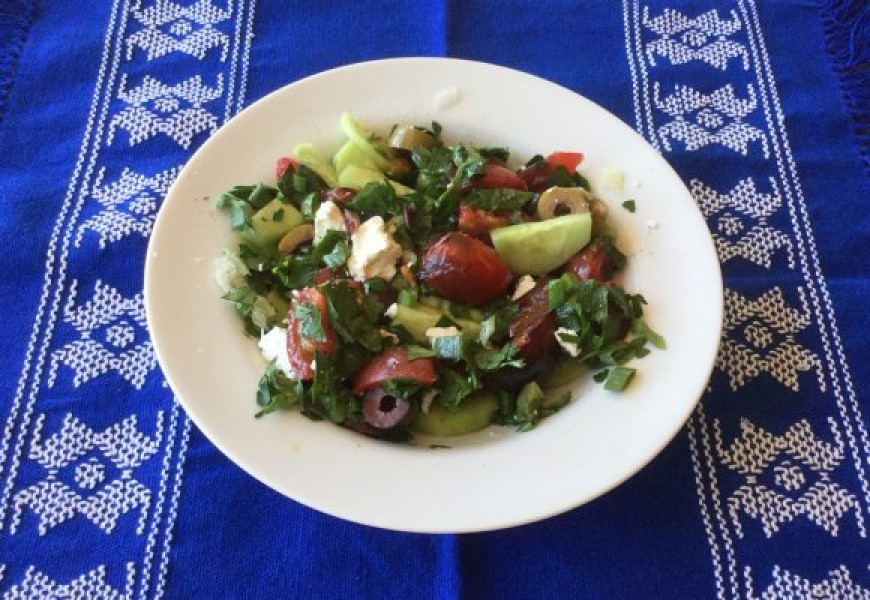 A few years ago, my friend Dorothy traveled to Istanbul. When she got home, she told me that she found her Istanbul breakfasts to be especially interesting in contrast to typical breakfasts in the U.S. and Western Europe. "So what were your Istanbul breakfasts like?" I asked. "Well," she said, "they were mainly a sort of salad, a mix of fresh cucumbers, tomatoes, scallions, a few olives, a little feta, and minced garlic and parsley."
Why not? I thought. I have much more of a savory tooth than a sweet tooth, and, thanks to Dorothy, I make various versions of her Istanbul breakfast when the main ingredients are available at the market. And I sometimes make it for lunch.
This week, the tomatoes and cucumber came from Malandro Farm. The beautiful purple-tipped scallions came from Ground Stone Farm. The gorgeous, very broad-leaf parsley came from Esperanza Gardens, the feta from Camino de Paz, and the garlic from Stan Crawford's El Bosque Garlic Farm. I tossed the mix with olive oil and unpasteurized cider vinegar from Zulu's Petals.
This is a recipe that's not exactly a recipe. It's a list of ingredients to slice and chop and mince and crumble and mix in whatever proportions appeal to you at the time. Toss with oil and vinegar and add salt and pepper to taste.
Tomatoes
Cucumbers
Parsley
Scallions
Feta
Clove(s) of garlic
A few olives
Olive oil
Cider vinegar
Salt
Pepper
This locally inspired recipe is brought to you by Pam Walker. Pam is an avid home cook, writer, and local farm and food activist who is also a board member of the Santa Fe Farmers' Market Institute. Thank you, Pam, for helping inspire us to use locally sourced ingredients!