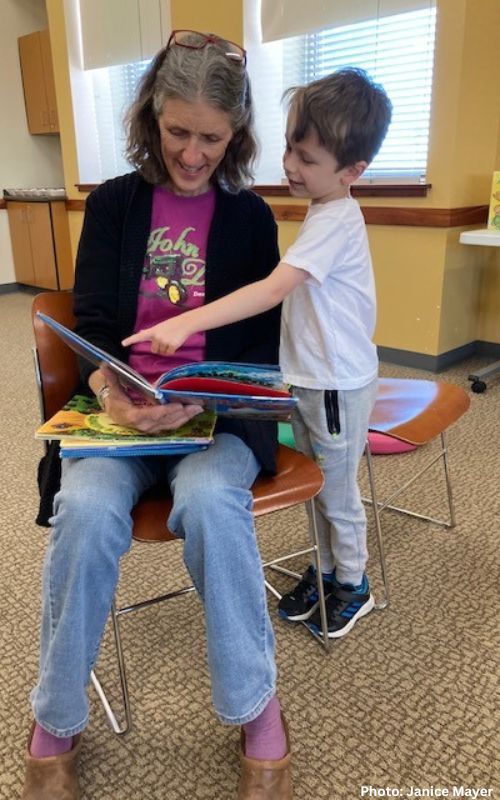 Mary Dixon of Green Tractor Farm Reads to Children at the Santa Fe Public Library's Southside Branch with the Assistance of her grandson Major, who was visiting from New York City. Photo: Janice Mayer
This year, the chicken or egg paradox is on everyone's lips. Parents and children alike were thinking about chickens at the January 25th parent-toddler reading at the Santa Fe Public Library's Southside branch.
Mary Dixon, a retired preschool teacher and owner of Green Tractor Farm, shared stories from her farm and read to twenty parents and children at the Institute's first farm book reading. Lindsey Craig and Marc Brown's Farmyard Beat, a rhythmic story-telling of insomniac farmyard animals, was the hands-down favorite, with all of the children joining in for the refrain: "Chicks can't sleep, chicks can't sleep, chicks can't sleep 'cause they got that beat!"
Parents in the room were more likely thinking about the egg supply shortage and high prices. Rose Maura Lorre of The New York Times recently reported on "the increasing number of folks shelling out for 'inflation chickens' to offset egg costs and shortages." She quoted farmer Doug Mahoney who cautioned those considering this do-it-yourself approach. Said Mahoney, "…It's likely not going to be a money-saving venture. If you're trying to make up for price hikes on the two-dozen eggs you buy a month, it could actually take years to, uh, recoop what you spend in the process. There are a lot of costs that go into it: infrastructure, feeders, waterers, bedding, medical supplies, the birds themselves."
Egg producer and vendor Randy Cruz of Cruz Ranch in Sapello, New Mexico concurred. We spoke with him to learn about the state of organic eggs at the Santa Fe Farmers' Market. Randy said the price for a dozen fresh, locally-produced eggs is $10 today on average. This is an increase of $2 over last year, but competitive with egg prices at national chain grocery stores. The increased cost of grain, alfalfa, a 70% increase in electricity rates, higher employee wages, and inflated gas prices for his 180 mile roundtrip drive to Santa Fe, among other expenses, have driven up the end cost to the consumer. In his particular case, he said the fires last year caused the death of thousands of chickens and hundreds of new baby chicks. "As a result, the price of new baby chicks has gone up. We house all of our employees at the ranch, and the fire burned our house at the ranch last year, creating an expected severe hardship as well."
The benefit of buying Cruz Ranch's eggs is that they are two days old when they get to the Santa Fe Farmers' Market instead of three months old at the grocery store. He said that his birds "are free range all year round and get lots of sunlight, which is better for the chickens than artificial lights. Because of their ability to free graze, the yolks are orange in color, not yellow and pale like store eggs."
By buying local, Santa Fe Farmers' Market patrons are also supporting our neighbors and small-scale farming and ranching in New Mexico.
For the children still fascinated by chickens, Institute Operations Director Syri Mongiello will be reading La gallina Cocorina (Clucky the Hen) at the bilingual farm book reading (6599 Jaguar Drive Santa Fe, N.M. 87507) on Saturday, February 25th at 11:30 am at the Santa Fe Public Library's Southside Branch (6599 Jaguar Drive Santa Fe, N.M. 87507). Healthy snack packs also will be served to everyone attending. Please join us!