Kale Rabe Baked with Parmesan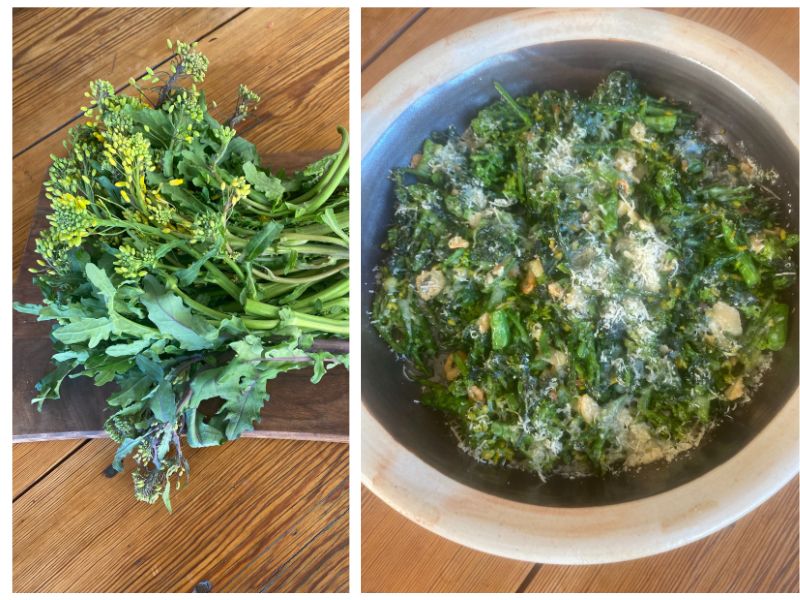 I love discovering produce new to me at the farmers' market, and this past Saturday, the Vagabond Farmers introduced me to kale rabe (sometimes spelled raab). It looks a lot like broccoli rabe, and that's what I thought it was until I asked Astrid. I eagerly bought a big bunch and searched for ways to cook it besides a simple saute. Mark Bittman's New York Times recipe for baked broccoli rabe was my guide. Except for substituting kale rabe for broccoli rabe, I followed it and enjoyed the results.
 Yield: 6 servings
Salt

3

pounds broccoli rabe, washed and trimmed

2 to 4tablespoons olive oil, plus some for greasing the pan
10

garlic cloves, peeled and sliced

1

cup grated Parmigiano-Reggiano
Bring a large pot of salted water to boil. Preheat the oven to 350 degrees. Drop broccoli rabe into the water, and cook until bright green and tender, about 3 minutes. Remove, and plunge into ice water. Drain.

Place 2 tablespoons olive oil in a skillet, and turn heat to medium-high. Toast garlic in oil until golden. Chop broccoli rabe into pieces, about an inch or two long, and add to skillet. Toss, then turn off heat.
Add broccoli rabe mixture to a baking dish. Sprinkle with grated cheese, and bake until cheese melts, about 10 minutes. Serve hot.
This locally inspired recipe is brought to you by Pam Walker. Pam is an avid home cook, writer, and local farm and food activist who is also a board member of the Santa Fe Farmers' Market Institute. Thank you, Pam, for helping inspire us to use locally sourced ingredients!