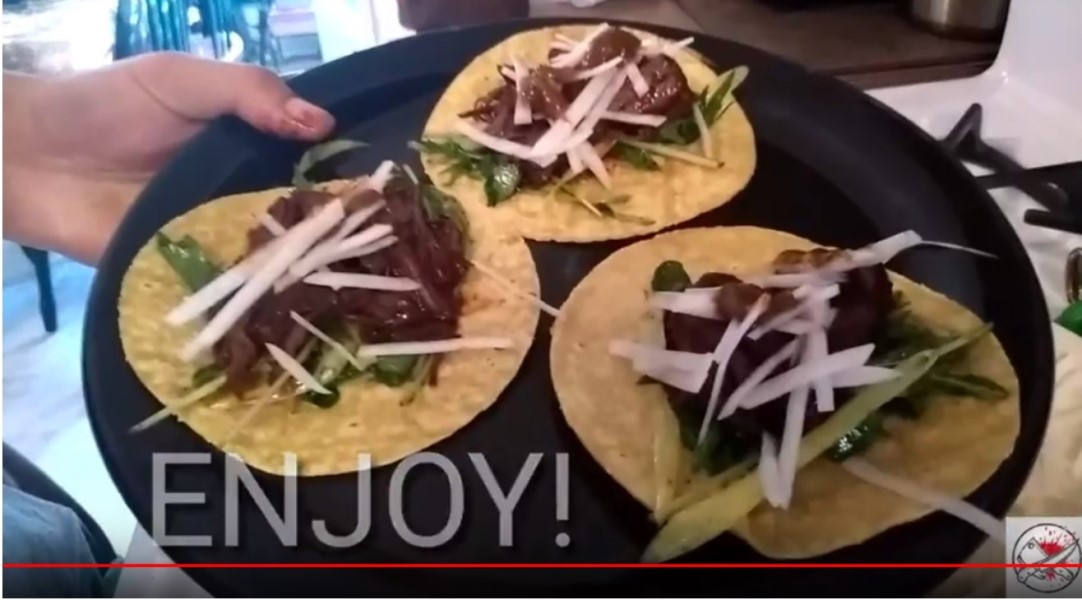 Extra Virgin Olive Oil
Chuck Roast
1 qt Beef Stock
1 1/2 cups Red Chile Puree
1/2 cup Balsamic Vinegar
1/4 Soy Sauce
4 Spring Onions, chopped
1 tomato, quartered
5 Garlic cloves
1 Habanero Pepper, dried
5 Bird's Eye Peppers, dried
1 pint Water
Scallions, chopped
Cilantro, chopped
Bundle of Sweet Japanese Turnips
Mizuna
Micro Corn
Micro Nasturtium
Corn tortillas
Salt
Pepper
Heat olive oil. Sear the chuck roast on both sides.
Add beef stock, 1 cup of the red chile puree, half a cup of balsamic vinegar, and soy sauce. Braise chuck very low and slow for 6 hours.
Combine spring onions, tomato, garlic, Habanero pepper, Bird's Eye peppers, and water. Boil for 5 minutes.
Combine cilantro and scallions in a bowl. Add 1/2 cup of red chile puree and the boiled veggies. Blend with immersion blender.
Juliene the turnips.
Toss the mizuna, micro corn and micro nasturtium with balsamic vinegar, salt, pepper, and olive oil.
Warm the corn tortillas.
Assemble tacos and enjoy!
This locally inspired recipe is brought to you by Pam Walker. Pam is an avid home cook, writer, and local farm and food activist who is also a board member of the Santa Fe Farmers' Market Institute. Thank you, Pam, for helping inspire us to use locally sourced ingredients!