Grilled Asparagus With Lemon Dressing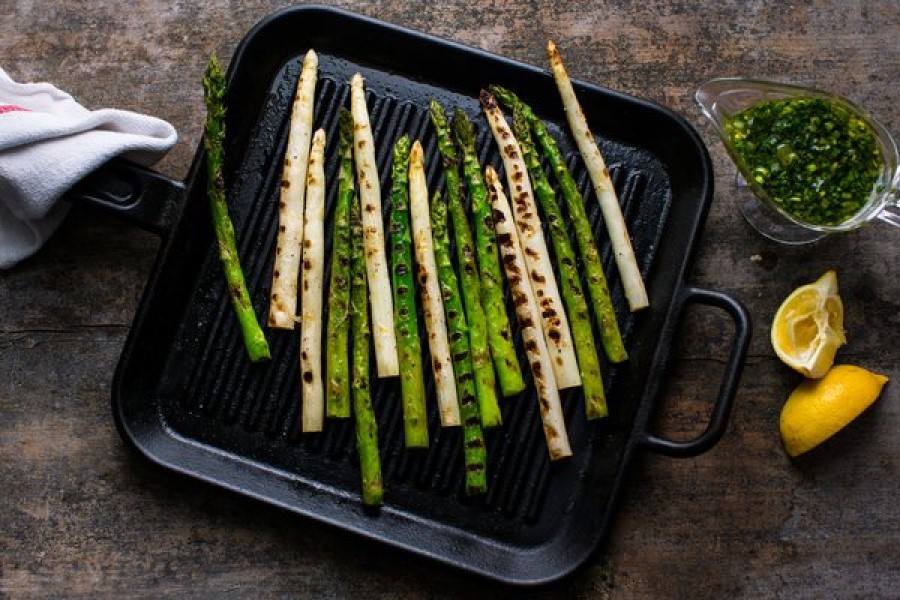 The simplest recipes reflect the culinary principle of using the best, freshest ingredients and letting them speak for themselves. This recipe, like many in Mark Bittman's The Minimalist, exemplifies this principle. A number of farmers are now bringing the first asparagus of this spring to Market, with spears ranging from thin to thick. Take your pick, and enjoy it in simple ways for as long as it lasts.
1 ½ to 2 pounds large asparagus
Olive oil as needed, about 2 tablespoons
Salt and freshly ground black pepper to taste
Juice of 3 lemons
2 tablespoons minced shallots or scallions
¼ cup minced fresh parsley leaves
Snap off the woody ends of the asparagus; most spears will break an inch or two from the bottom. Peel the stalks up to the flower bud. Meanwhile, start a charcoal fire or heat a gas grill; if you're cooking indoors, heat a cast-iron or other heavy skillet over medium-high heat until it smokes.
To grill the asparagus spears, toss them with about a tablespoon of oil, mixing with your hands until spears are coated. Season well with salt and pepper. Grill until tender and browned in spots, turning once or twice, in all 5 to 10 minutes.
To pan grill the asparagus, do not oil or season them. Just toss them in the hot skillet, and cook, turning the spears individually as they brown, until tender, 5 to 10 minutes. Remove as they finish, and season with salt and pepper.
Mix together the lemon juice and shallots, then stir in enough olive oil to add a little body and take the edge off the sharpness of the lemon; the mixture should still be strong. Season it well with salt and plenty of black pepper, and stir in the parsley. Serve the asparagus hot or at room temperature with grilled fish. Spoon the sauce over everything.
This locally inspired recipe is brought to you by Pam Walker. Pam is an avid home cook, writer, and local farm and food activist who is also a board member of the Santa Fe Farmers' Market Institute. Thank you, Pam, for helping inspire us to use locally sourced ingredients!