Frijoles y Quelites en Chile Guajillo con Queso Fresco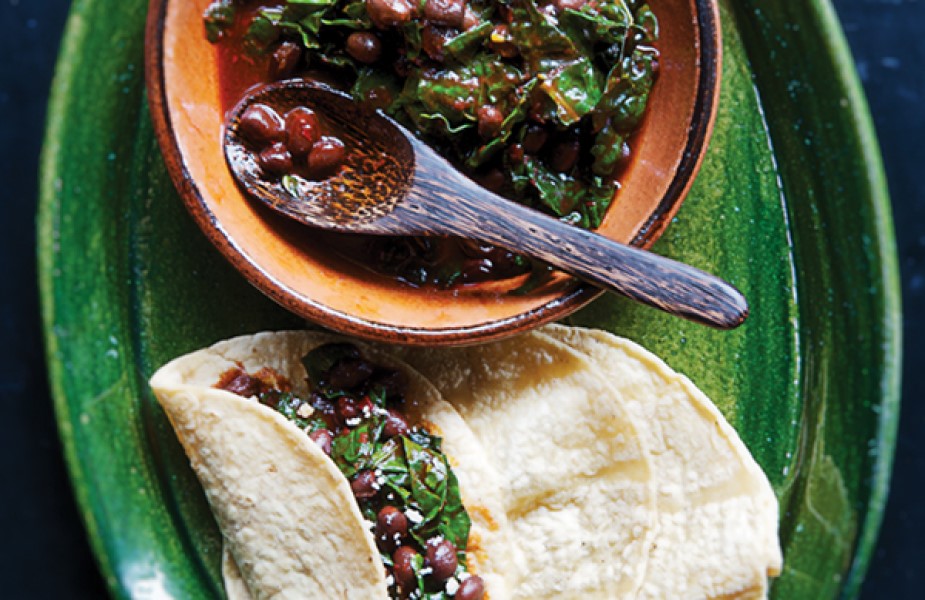 Image courtesy of Rick Bayless.
I love Rick Bayless and his ways of preparing authentic Mexican food. I've enjoyed his many cookbooks over many years and have also enjoyed dining at his Chicago restaurants Topolobampo and Frontera a number of times.
For simple, robust meals, nothing is more satisfying than his recipes for soft tacos of various greens combined with chiles and other ingredients. Most of the main ingredients in this recipe, or suitable substitutes for them, are almost constantly available in the Santa Fe Farmers' Market.
A variety of greens, including chard, spinach, kale, arugula, continues to be plentiful in the market. In addition, a far less common green, in fact, a "reddish" green, is currently available from Bodhi Farms – – red orach crossed with lambs-quarters. Get it while you can and enjoy it instead of, or along with, whatever other greens you like.
Buen provecho!
Yield: four servings (enough for 12 tacos)
3 tbsp vegetable oil
8 medium-large (about 2 ounces) dried guajillo chiles, stemmed and seeded
3 garlic cloves, peeled and roughly chopped
1/2 tsp dried oregano, preferably Mexican
1/4 tsp ground black pepper
Salt
Sugar
1 medium bunch (about 12 ounces) black (aka Tuscan or Dinosaur) kale, stems removed, cut crosswise into ½-inch strips—you should have about 6 cups
1 15oz can black beans, drained
1/4 cup crumbled Mexican queso fresco or other fresh cheese such as feta or goat cheese
12 corn tortillas
Heat the oil in a large (4-quart) saucepan over medium. One or 2 at a time, fry the chiles until they're aromatic and change color (they'll lighten a little on the inside and brown on the outside), 10 seconds or so on each side. Remove to a bowl, cover with hot tap water, weight with a plate to keep them submerged and rehydrate for about 20 minutes. Set the pan aside.
Scoop the chiles into a blender jar, along with 2/3 cup of the soaking water.
Add the garlic, oregano, and pepper and blend to a smooth puree. (If the mixture won't move through the blender blades, add a little more of the soaking liquid to loosen it up.)
Return the oily pan to medium-high heat. When hot, set a medium-mesh strainer over the pan and press the chile mixture through. Discard the skins and seeds left in the strainer. Cook, stirring nearly constantly, until the consistency of tomato paste, about 4 minutes.
Pour in 3/4 cup water, reduce the heat to medium-low and simmer, stirring regularly, until the sauce takes on a medium consistency, about 5 minutes.
Taste and season highly with salt, usually about 1 teaspoon; adding about ½ teaspoon sugar will bring out the natural fruitiness of the chile and balance the heat a little.
Add the kale and beans to the sauce all at once, tossing to coat with the guajillo sauce.
Cook, stirring often, until the kale wilts, about 3 minutes.
Transfer the mixture to a warm serving bowl. Sprinkle the queso fresco on top and you're ready to serve. If you're like me, that'll include plenty of warm tortillas for making tacos!
This locally inspired recipe is brought to you by Pam Walker. Pam is an avid home cook, writer, and local farm and food activist who is also a board member of the Santa Fe Farmers' Market Institute. Thank you, Pam, for helping inspire us to use locally sourced ingredients!