Eggs, Bacon, and Biscuits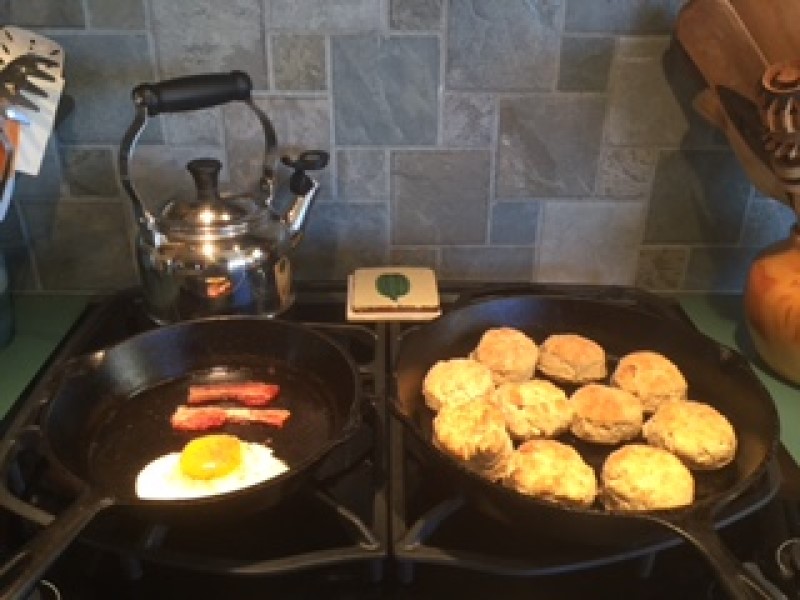 I recently rendered lard I bought from Red Mesa Meats and put it in a wide-mouthed jar and keep it stored in my refrigerator. I like to add a little lard to a simmering pot of beans and sometimes to a braise of mixed greens, especially collards and mustards. I especially like making biscuits with lard instead of shortening whenever I have some from a pasture-raised animal on hand. Lard produces a lighter texture and richer flavor.
For many years, my favorite biscuit recipe has been the one in Linda West Eckhardt's The Only Texas Cookbook (Austin: Texas Monthly Press, 1981). I follow it except that I omit the sugar, and I use a half cup of whole wheat flour and one and a half cups of unbleached wheat flour rather than two cups of unbleached wheat flour. If I don't have buttermilk on hand, I add a little vinegar, preferably Mary Campbell's Rancho Arco Iris apple cider vinegar, to whole milk, and I substitute lard for shortening. For baking, I use a cast iron skillet big enough to leave a little space among the biscuits.
While the biscuits are still hot from the oven, I enjoy slathering a couple with butter from Old Windmill Farms and adding just a dab of apple butter from Camino de Paz. I buy smoked bacon from Red Mesa and eggs from various vendors.
Leftover biscuits are good, too. Sometimes for a quick breakfast, I halve them and toast them lightly and spread a little cream cheese from Old Windmill Dairy on them – way better to my taste than a bagel.
Yield: about one dozen medium biscuits
2 cups flour
½ teaspoon salt
1 teaspoon sugar
¼ teaspoon soda
1 tablespoon baking powder
5 tablespoons shortening
1 cup buttermilk
Preheat oven to 450 degrees. Sift together dry ingredients, then cut in shortening with a pastry blender. If you want to do it the real old-fashioned way, mix it with your hands. This is a good sit-down job. You can even read while you're doing it.
Make a well in the middle of the flour mixture and pour in buttermilk. With a fork, mix very lightly, just until the flour is thoroughly moistened.
Turn out on a floured board and knead just 2 or 3 times. Pat out dough until it's about as thick as an ear of a prickly pear cactus (1/2 inch), then cut with an inverted drinking glass or a biscuit cutter. At this point you can freeze what you don't want to bake for this meal. Then just pull them out of the freezer 30 minutes before baking.
Bake in preheated oven 12-15 minutes on a pan well greased with butter or fresh bacon grease. I always turn them over once to mop their tops with oil.
This locally inspired recipe is brought to you by Pam Walker. Pam is an avid home cook, writer, and local farm and food activist who is also a board member of the Santa Fe Farmers' Market Institute. Thank you, Pam, for helping inspire us to use locally sourced ingredients!