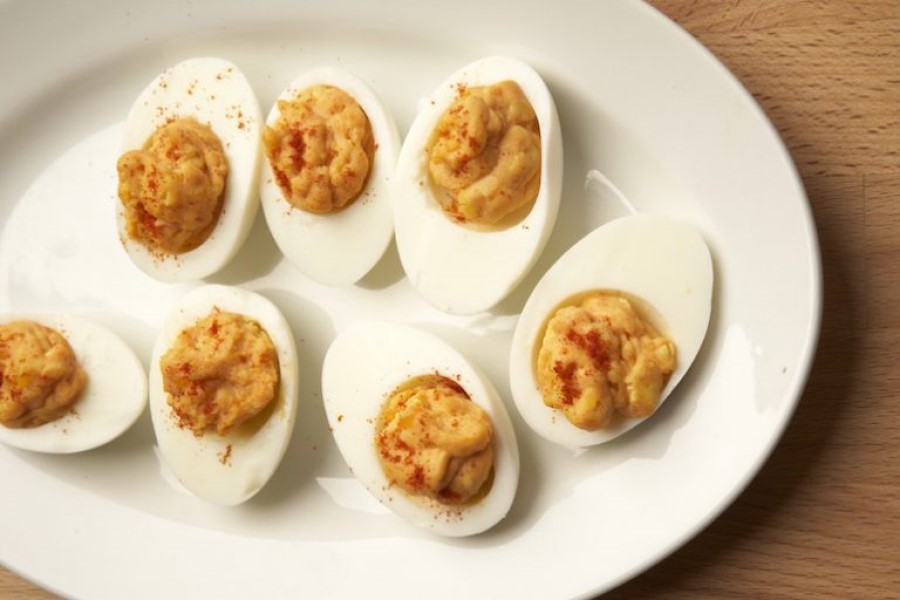 Recipe from Mark Bittman's How to Cook Everything: The Basics. Photos by Romulo Yanes.
If Easter eggs are on the menu at your house this coming weekend, you might be wondering what to do with so many eggs. To the devil with them, I say — turn them into deviled eggs.
When I was growing up, in the 1950s, deviled eggs were a mainstay of family meals and church meals from Easter through summer and into early fall, more often than not served with baked ham or fried chicken and mashed potatoes and pan gravy and green beans or black-eyed peas.
I never tired of deviled eggs, and love them to this day. My recipe? I don't follow one, not exactly. I work from memories of how my mother and grandmothers and aunts made deviled eggs, often enlisting me and other girls – always and only girls in those days – to help. After peeling the boiled eggs and halving them, we spooned out the yolks and used forks to mash them with whatever amounts of mayonnaise and French's mustard and salt tasted just right, and then spooned the mixture back into the hollows of the halves and dusted them lightly with paprika.
I don't usually do anything much different these days except for adding to the mashed yolks just a splash of the best apple cider vinegar I can get my hands on. And right now that is the vinegar made by Mary Campbell of Rancho Los Arcos, in Dixon, from organic apples, with no additional ingredients or filtration. Check with her on market days about current availability and projections for availability in coming months.
The other thing I sometimes do differently is to use New Mexico red chile powder – always available at the market — instead of paprika for the finishing touch.
For more measured approaches to deviled eggs, Mark Bittman, in How to Cook Everything, provides a useful basic recipe along with suggested variations.
An old-school nibble that never goes out of style and is easy to update.
Time: 15 minutes with pre-cooked eggs
4 hard-boiled eggs
Salt
2 tablespoons mayonnaise
1 teaspoon Dijon-style mustard, or more to taste
¼ teaspoon cayenne, or more to taste
1 teaspoon paprika or chopped fresh parsley leaves for garnish
1. When you're ready to make the deviled eggs, crack the shells gently on all sides and peel; cut the eggs in half lengthwise and carefully remove the yolks. Scoop the yolk out gently so the white stays in one piece. You can use your fingers to remove yolks or fill the egg whites—it'll make things easier.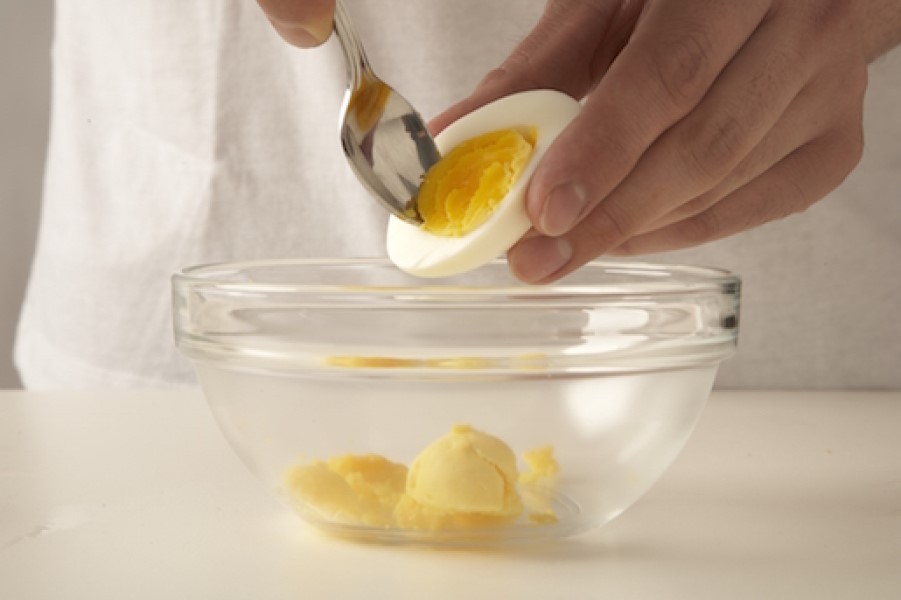 2. Combine the yolks with a sprinkle of salt, mayonnaise, mustard, and cayenne in a small bowl and mash the mixture with a fork until smooth. Taste and adjust the seasoning, adding more mustard and cayenne if you like. The classic texture is quite smooth, but you can make it chunky if you prefer.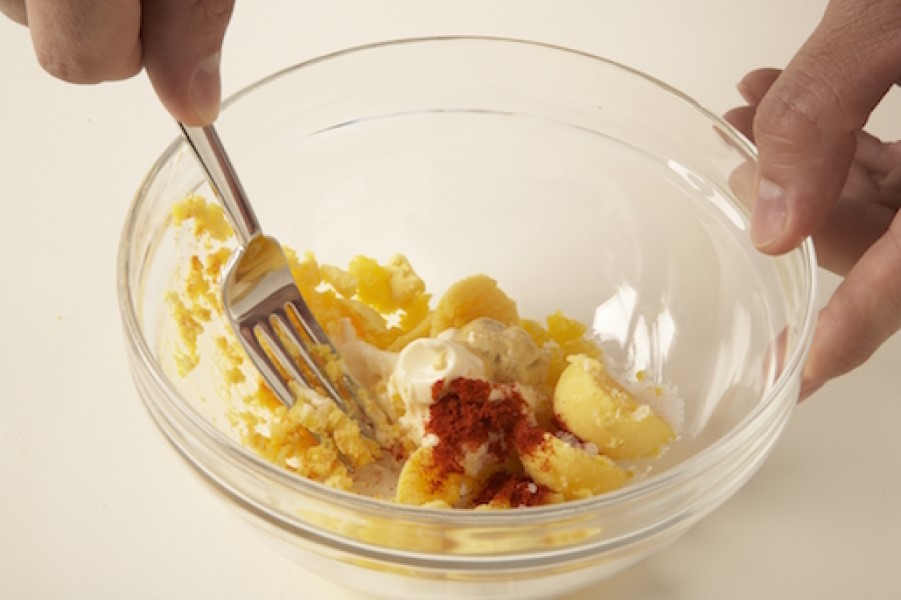 3. Carefully spoon the filling back into the whites. Sprinkle the tops with paprika and serve or cover tightly with plastic wrap and refrigerate for up to a day. (They're best when not too cold, so remove them from the fridge about 15 minutes before serving.) Don't be stingy with the filling; it's what makes deviled eggs so great.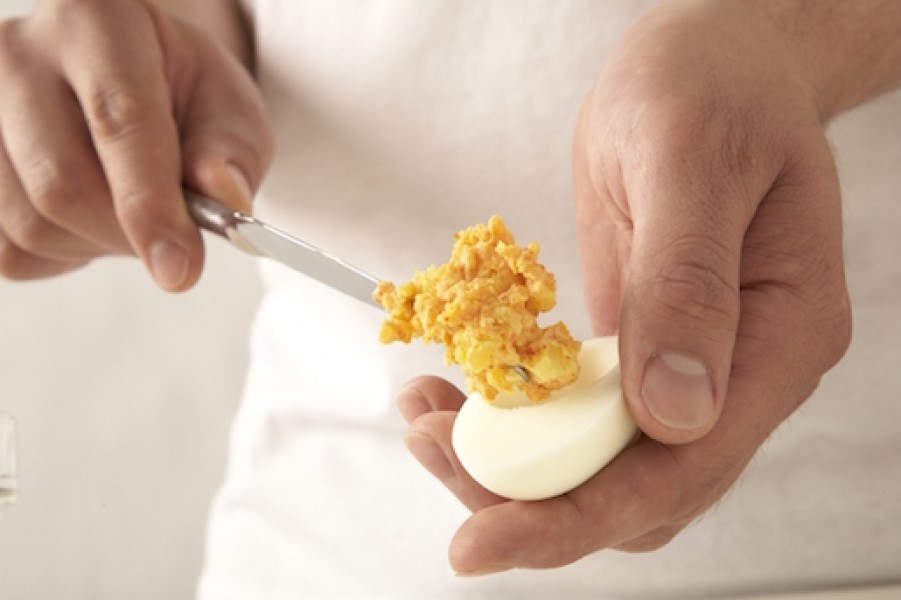 4. Another option: Put the yolk mixture in a resealable plastic bag, cut off a corner, and squeeze gently into the whites.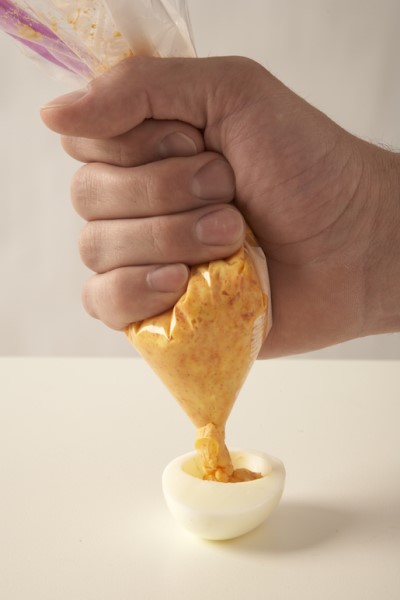 For a lighter, tangier version of Deviled Eggs, use yogurt instead of mayonnaise. Half of each is good, too.
Herbed Deviled Eggs: In Step 2, add 2 tablespoons chopped fresh chives and 1 teaspoon chopped fresh tarragon leaves.
Curried Deviled Eggs: In Step 2, use yogurt instead of the mayonnaise if you like and 1 teaspoon curry powder instead of the mustard. Add 1 tablespoon chopped pistachios or cashews. Garnish with chopped fresh cilantro leaves.
Crabby Deviled Eggs: In Step 2, add ½ cup lump crabmeat. (You'll have lots of filling, so pile it high.)
Tangy Deviled Eggs: In Step 2, add 2 tablespoons chopped capers or pickles.
This locally inspired recipe is brought to you by Pam Walker. Pam is an avid home cook, writer, and local farm and food activist who is also a board member of the Santa Fe Farmers' Market Institute. Thank you, Pam, for helping inspire us to use locally sourced ingredients!