Fried Green Tomato Sandwich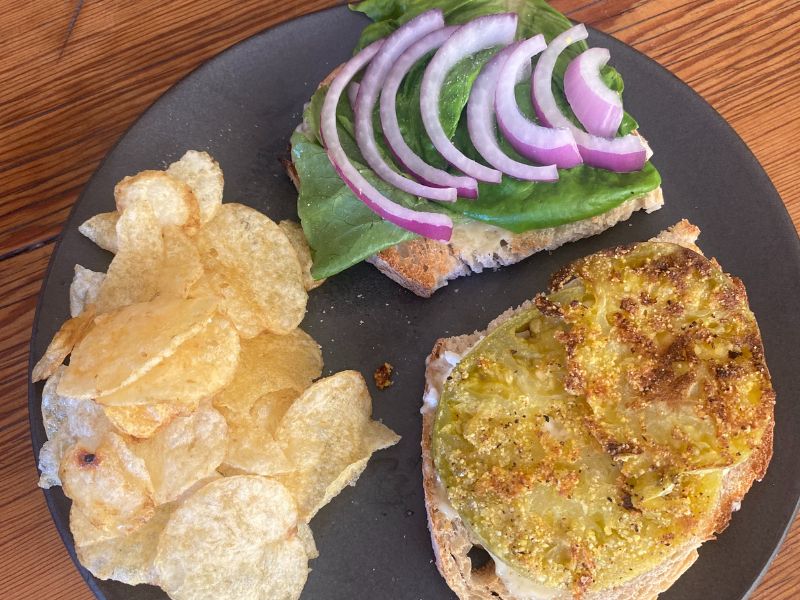 I love fried green tomatoes and usually eat them as a side. But a couple of days ago, I came across a recipe for a fried green tomato sandwich in Deborah Madison's Vegetarian Cooking for Everyone. I didn't follow it exactly but rather let it be my guide, adapting it to the ingredients I had on hand and my druthers of the moment.
I sliced a fairly large green tomato into ¼" slices and dipped them into finely ground corn meal seasoned with salt and freshly ground pepper. I fried them in a thin layer of olive oil in a cast iron skillet at medium-high heat on both sides until lightly browned and soft but not mushy. I drained them on paper towels. Next, I toasted slices of sourdough bread and added garlic oil to the quantity of mayonnaise I wanted to use and slathered the garlic mayonnaise on both slices of toasted bread. I crumbled Camino de Paz feta onto one slice, placed tomato slices on top of the feta, put little gem lettuce leaves on top of the tomatoes. I placed thin slices of red onion on the lettuce and then topped the whole shebang with the other toasted slice of bread. I ate it with potato chips, of course! 
This was my first green tomato sandwich, and it won't be my last.
This locally inspired recipe is brought to you by Pam Walker. Pam is an avid home cook, writer, and local farm and food activist who is also a board member of the Santa Fe Farmers' Market Institute. Thank you, Pam, for helping inspire us to use locally sourced ingredients!