Beef Italian Sausages with Bell Peppers, Onions, and Garlic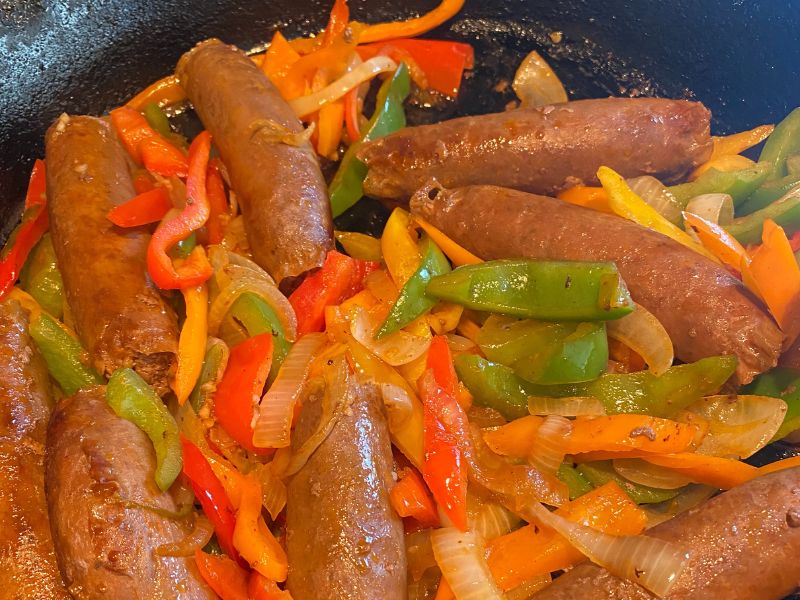 One of my favorite dinners to prepare a day ahead of a dinner party is Italian sausage links with bell peppers and onions and garlic. I recently bought beef links from Lazy BG and bell peppers in various colors from Ground Stone. The onions I bought from Tony's Farm and the garlic from El Bosque.
My basic method is to put a little olive oil in a cast iron skillet and slowly brown the links on all sides with the burner flame between low and medium. When the links are nicely browned, I remove them to a plate. Then I put the peppers, cut into strips, and a medium size onion, thinly sliced, and two or three minced cloves of garlic in the cast iron skillet and saute them in the sausage drippings until the vegetables are tender but not browned. When they're tender, I deglaze the skillet with water or wine and add the sausages to the mix and braise it all until the sausages are hot again.
Refrigerating this overnight actually helps the flavors meld.
I like to eat this accompanied by either orzo, rice, or roasted potatoes, a mixed lettuce and other greens salad, and a baguette.
This locally inspired recipe is brought to you by Pam Walker. Pam is an avid home cook, writer, and local farm and food activist who is also a board member of the Santa Fe Farmers' Market Institute. Thank you, Pam, for helping inspire us to use locally sourced ingredients!