Flank Steak, Tomatoes, and Potatoes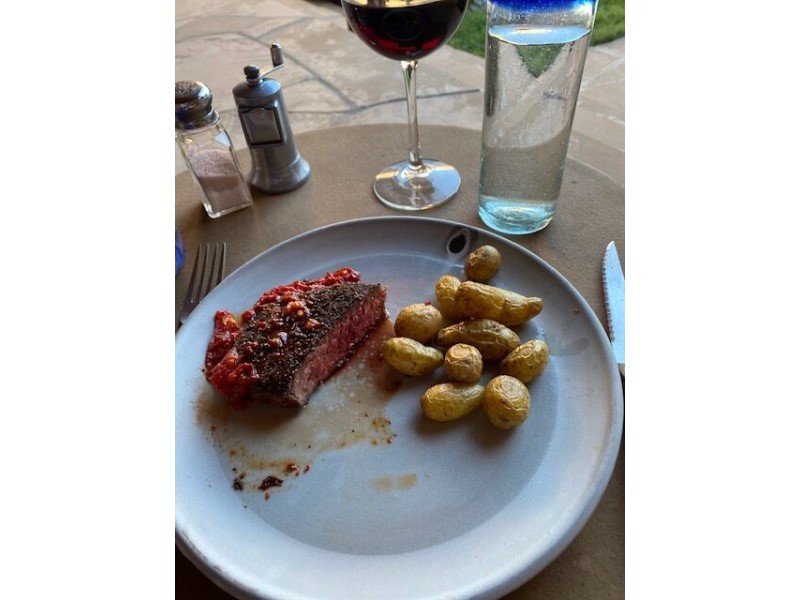 The first tomatoes and potatoes of the season are now appearing in the market. To celebrate and enjoy them, I roasted some potatoes and broiled a flank steak with some tomatoes. It makes a nearly effortless and delicious meal.
My potatoes were small ones. I tossed them with olive oil and salt and pepper and roasted them in a cast iron skillet in the oven for about thirty minutes at 350 degrees.
To prepare the flank steak, I used a very simple recipe from Mark Bitman's How to Cook Everything. I coated the steak on both sides with a mixture of salt and coarsely ground black pepper. I set the oven broiling temperature to 550 degrees, put the steak in a cast iron skillet, and set it on an oven rack about 4 inches beneath the heat source. I browned each side of the steak for 3 to 4 minutes. Then I set the skillet on a lower rack and cooked the steak for two more minutes on each side, adding two medium sized tomatoes to the skillet for these final four minutes.
This locally inspired recipe is brought to you by Pam Walker. Pam is an avid home cook, writer, and local farm and food activist who is also a board member of the Santa Fe Farmers' Market Institute. Thank you, Pam, for helping inspire us to use locally sourced ingredients!