Diana Kennedy's Huitlacoche Para Quesadillas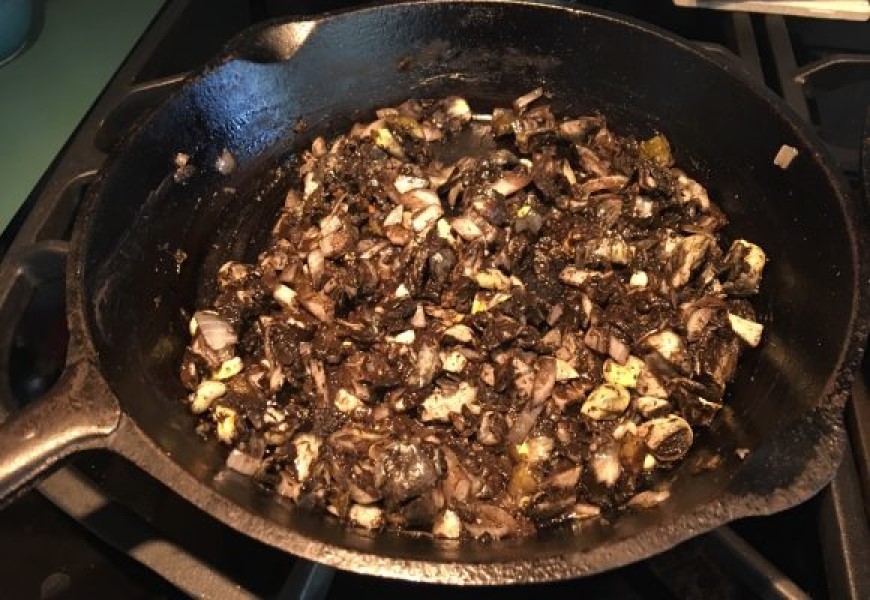 The wonders of a great farmers' market never cease. Last Saturday, Mountain Flower Farm brought ears of corn with the beautiful corn fungus, huitlacoche, growing on them. I've enjoyed cooking and eating it previously in classes in Oaxaca. What a delightful surprise to find it here.
I bought some, and also bought fresh corn tortillas, roasted chiles poblanos, onions, and garlic at the Market, and made a lunch based on this recipe of Diana Kennedy's from The Cuisines of Mexico. I ate my quesadillas with curds of goat cheese, but other types of white cheese would be good, too.
About 1 lb huitlacoche (corn fungus)
3 – 4 tablespoons peanut or safflower oil
1/4 medium onion, finely chopped
1 clove garlic, peeled and finely chopped
2 small chiles poblanos, roasted, peeled, and cut into strips, or 2 canned, peeled green chiles
1 large sprig epazote
¼ teaspoon salt, or to taste
Cut the fungus from the corn cobs and chop it roughly. Set aside.
Heat the oil and cook the onion and garlic, without browning, until they are soft.
Add the chili strips, huitlacoche, epazote, and salt and cook over a medium flame until the mixture is soft and the liquid from the fungus has evaporated–about 15 minutes.
This locally inspired recipe is brought to you by Pam Walker. Pam is an avid home cook, writer, and local farm and food activist who is also a board member of the Santa Fe Farmers' Market Institute. Thank you, Pam, for helping inspire us to use locally sourced ingredients!