Deborah Madison's Oven-Roasted Tomato Sauce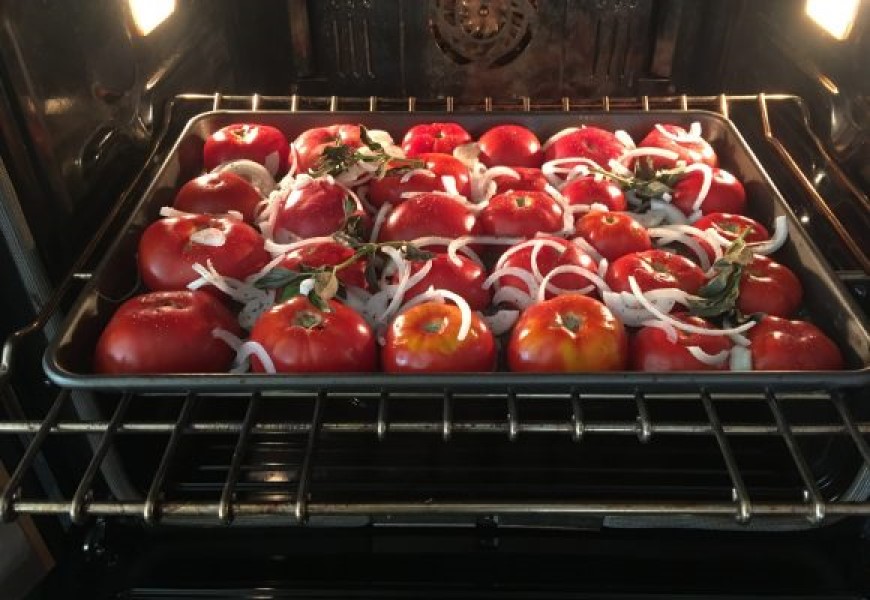 Beautiful tomatoes of many varieties abound at the market these days. I can't eat enough of them, whether sliced or chopped and eaten raw, or sautéed and combined with other ingredients, or made into sauce.
One of my favorite tomato sauces is this one from Deborah Madison's Vegetarian Cooking for Everyone. It's simple to make yet robust in flavor.
"This is a good treatment both for tomatoes at their peak and for those that aren't quite at perfection, as roasting concentrates their flavor," Madison writes. "The oven temperature isn't really crucial, so take advantage of an oven that's being used for something else."
She specifies Roma tomatoes, but I like it as well with whatever varieties are available and usually use a mix. She also specifies thyme or marjoram, but I like basil or Sicilian oregano or both.
2 ½ pounds Roma tomatoes, halved lengthwise
1 onion, thinly sliced
4 thyme or marjoram sprigs
2 to 3 tablespoons olive oil
Sea salt and freshly milled pepper
Preheat the oven to 375 degrees.
Put the tomatoes in a single layer in a baking pan with the onion and thyme, drizzle the oil over all, and season with salt and pepper.
Bake until they're soft, shriveled, and falling apart, 45 minutes to 1 hour.
Remove the thyme sprigs and puree or pass through a food mill. Taste for salt and season with pepper.
This locally inspired recipe is brought to you by Pam Walker. Pam is an avid home cook, writer, and local farm and food activist who is also a board member of the Santa Fe Farmers' Market Institute. Thank you, Pam, for helping inspire us to use locally sourced ingredients!