Roasted Asparagus With Arugula and Eggs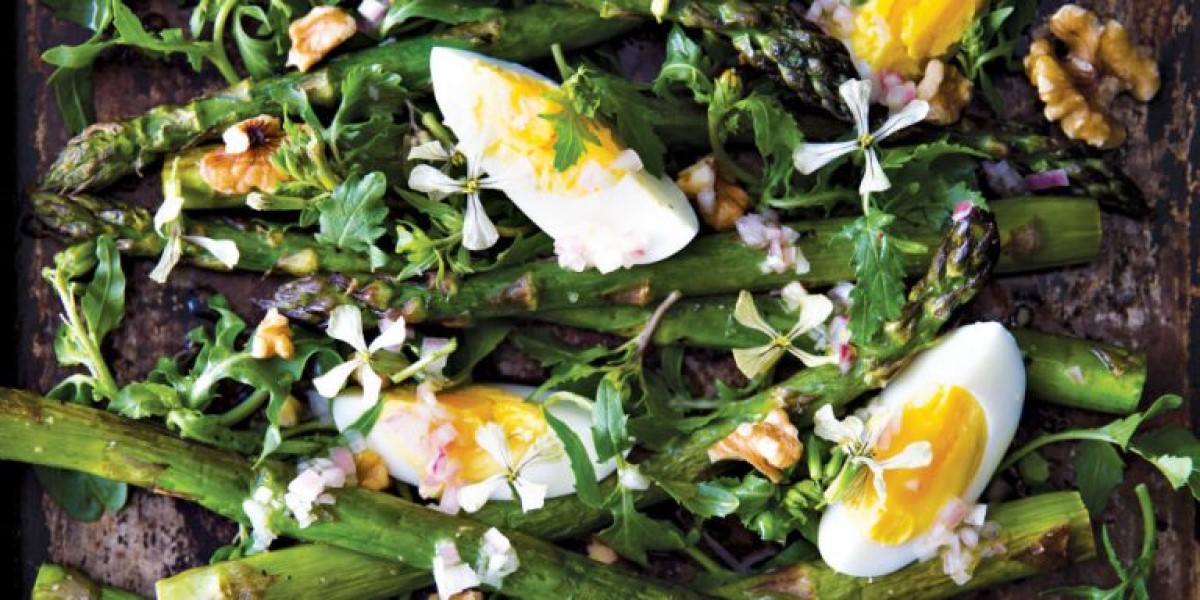 Image courtesy of Deborah Madison.
This recipe celebrates four great things. One is the appearance of asparagus at the Farmers' Market. The second is the continued appearance of arugula at the Market. The third is the recent publication of Deborah Madison's new cookbook, In My Kitchen: A Collection of New and Favorite Vegetarian Recipes, a beautiful book that includes this recipe.
And the fourth great thing? Collected Works is hosting Deborah Madison to sign copies of this book on Thursday evening, April 6, at 6pm.
Please visit Collected Works' website or Deborah Madison's website to learn more about her new cookbook. Get yourself a copy at the Santa Fe Farmers' Market Gift Shop!
1 pound or more thick asparagus
Olive oil
Sea salt and freshly ground pepper
3 handfuls of small arugula leaves, with blossoms, if possible
1 large shallot, finely diced
1½ tablespoons interesting vinegar
3½ tablespoons toasted walnut oil or good olive oil
2 hard-cooked eggs, peeled and quartered
4 walnuts, freshly cracked and lightly toasted or left fresh
Heat the oven to 425 degrees F. Trim and rinse the asparagus, then toss it with olive oil (not too much) and a few pinches of salt and some pepper. Put the asparagus in a large, shallow baking dish and bake for 20 minutes or as long as is needed (a little less for skinny asparagus), until tender, slightly shriveled, and aromatic.
Wash the arugula leaves and spin them dry. If they're large leaves from the garden, break them down so that the stems are short. If they're very hot and spicy, use just two handfuls, or even a little less. If there are blossoms, set them aside and use them to garnish the salad.
Put the shallot in a small bowl with the vinegar and ¼ teaspoon of salt. Let stand for a few minutes, and then whisk in the walnut oil. Taste the dressing on an arugula leaf and add more vinegar or oil, if needed. Dress the arugula with about half of the dressing. Taste for salt.
Set the asparagus on a platter or individual plates. Heap the arugula over it. Tuck in the eggs and walnuts here and there. Spoon the remaining dressing over the asparagus, garnish with the flowers if there are any, and serve.
This locally inspired recipe is brought to you by Pam Walker. Pam is an avid home cook, writer, and local farm and food activist who is also a board member of the Santa Fe Farmers' Market Institute. Thank you, Pam, for helping inspire us to use locally sourced ingredients!