Corn Salad with Tomatoes, Basil and Cilantro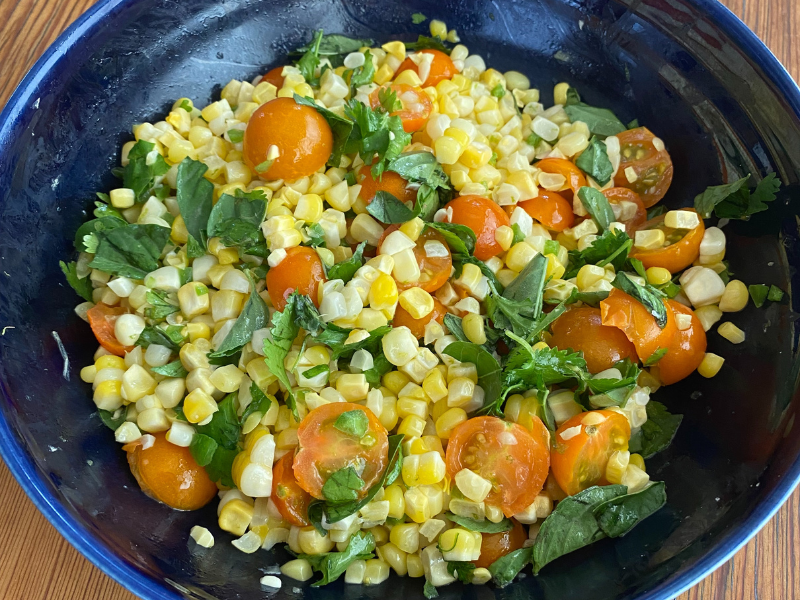 Sometimes I discover a new dish and wonder how I've lived so long without making and eating it.  This salad from Genevieve Ko for The New York Times is one of these dishes. Not only is it delicious and nutritious, but it is also simple and fast to prepare.
Corn is increasingly abundant in the market, and so are tomatoes of many varieties, shapes, and colors. Herbs are plentiful, too.
I boiled the corn instead of putting it in the microwave. I minced a jalapeno instead of habanero.
What a great season late summer is for eating food from local farmers!
5 ears of corn

1 pint cherry or grape tomatoes, halved

1 lime

3 tablespoons extra-virgin olive oil

Salt

¼ teaspoon minced seeded fresh habanero or other very hot chile (optional)

½ cup fresh basil leaves

¼ cup fresh cilantro leaves
Microwave the corn in their husks on high for 3 minutes. Shuck the corn — the silks will come off easily. (If you want to boil or steam the corn on the stovetop, you can shuck the corn first then cook just until brighter in color, 2 to 3 minutes.) Cut the kernels off the cobs, transfer them to a large bowl and add the tomatoes.

Finely grate the zest of the lime directly over the corn mixture, then squeeze the juice from the lime all over. Add the oil, a generous pinch of salt and the chile, if using. Mix well, then tear the herbs over the salad and gently fold them in. Season to taste with salt and serve, or refrigerate in an airtight container for up to 1 day.
This locally inspired recipe is brought to you by Pam Walker. Pam is an avid home cook, writer, and local farm and food activist who is also a board member of the Santa Fe Farmers' Market Institute. Thank you, Pam, for helping inspire us to use locally sourced ingredients!