Salted Chocolate Chip Cookies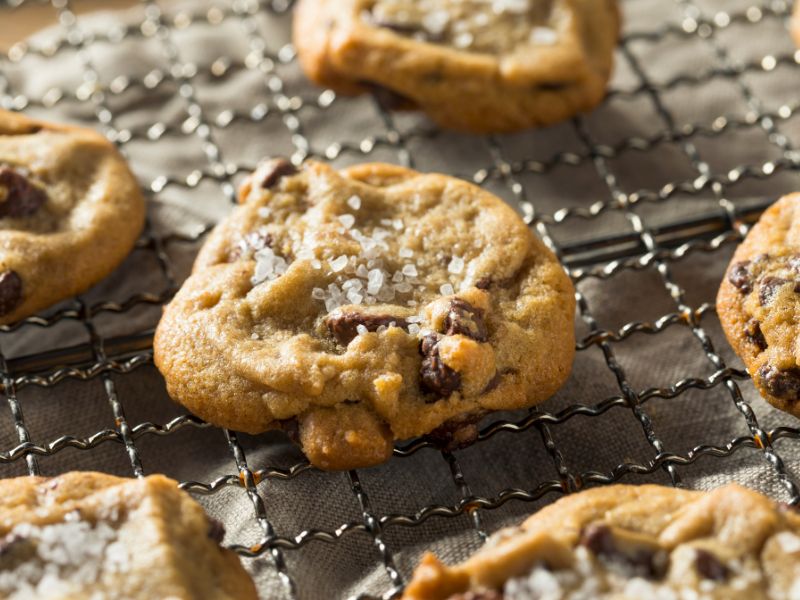 1 3/4 cups, light brown sugar
1 cup melted butter
1 egg
1 egg yolk
1 tablespoon vanilla
2 cups all purpose flour
1 cup of old-fashioned, rolled oats
1/2 teaspoon baking soda
1/2 teaspoon kosher salt
2 cups semi-sweet chocolate chips
Maldon flaked sea salt, or coarse sea salt
Melt butter
Place the sugar in a bowl of stand mixer with paddle attachment. Add the hot, melted butter and beet until smooth. Let cool for a few minutes in mixer.
Add the eggs and vanilla, beat until well combined.
Whisk together the dry ingredients in separate medium bowl. Slowly add them to the wet ingredients with mixer on low. Mix until just combined, scraping down the bowl as needed.
Add the chocolate chips and mix until evenly distributed. By hand with a wooden spoon, works well for the step.
Refrigerate the dough for at least one hour (the longer the better), or until thoroughly chilled.
Preheat the oven to 325°. Scoop the dough into golf ball size balls, and place on a parchment-lined baking sheet. Nine to a sheet, give or take.
Bake for 16 to 20 minutes, check and rotate if needed. Remove from the oven and immediately sprinkle with Maldon salt. Let cool for one to two minutes on baking sheet and then remove to a wire rack. Enjoy!