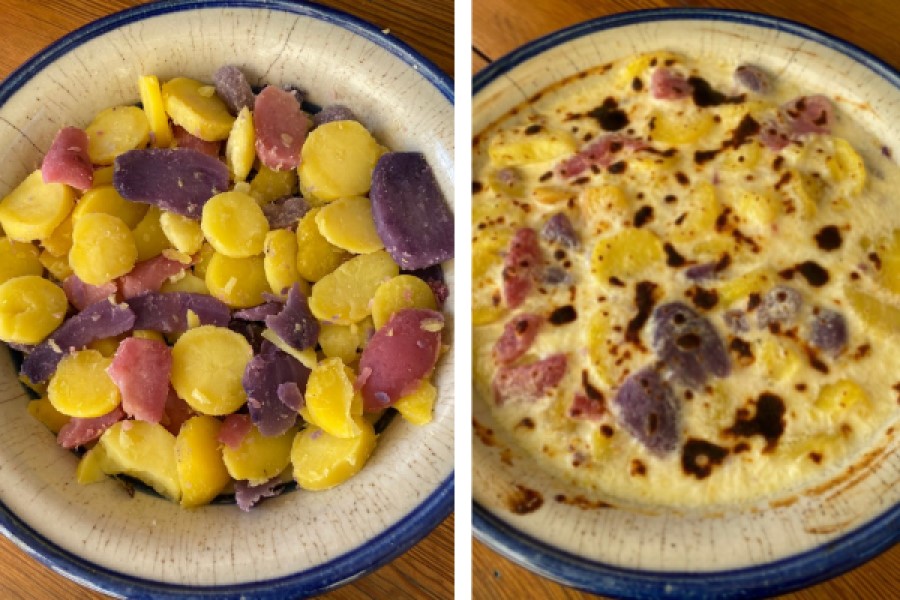 Potatoes abound in many varieties in the market these days. I recently made a gratin of several varieties, each a different color than the other. It satisfies the eye and palate alike.
I adapted this recipe from Mark Bittman's How to Cook Everything.
2 tablespoons extra virgin olive oil or butter, plus more for pan
1 ½ to 2 pounds of boiled potatoes (4 to 6 cups), cut into slices about half an inch
1 ½ to 2 cups grated cheese (I used gruyere and sharp cheddar, and I stirred it into the Bechamel sauce at the end of preparing it, when it was creamy and thick but not too thick.)
Bechamel sauce (see below for recipe)
Salt and freshly ground pepper
Additional spices or fresh herbs for sprinkling on top (optional)
Heat the broiler and put the rack about 4 inches from the heat source. Grease a broad, shallow baking dish, an overproof platter, or a rimmed baking sheet. Put the potatoes in the prepared dish, spreading them out a bit into an even layer. Distribute the Bechamel sauce over all. Drizzle with oil or dot with bits of butter; sprinkle with salt and pepper.
Put the potatoes under the broiler and cook until the Bechamel topping is golden brown, hot, and bubbly – which could be as little as 2 minutes but certainly fewer than 10. (Keep a close watch so it doesn't burn.) Sprinkle with extra seasoning if you like and serve.
2 tablespoons butter or extra virgin olive oil
2 tablespoons all-purpose flour
1 to 1 ½ cups milk
Salt and freshly ground pepper
Put the butter or oil in a small saucepan over medium-low heat. When the butter melts or the oil is hot, use a wire whisk to incorporate the flour. Turn the heat to low and cook, whisking almost constantly, until the mxiture turns tan, about 3 minutes.
Stir in the milk a little bit at a time, whisking constantly. When about a cup of the liquid has been stirred in, the mixture will be fairly thick. Add more milk a little at a time until the consistency is just a little thinner than you like, than cook, still over low heat, until the mixture thickens again. At this point, I added the cheese.
Sprinkle with salt and pepper and serve immediately or keep warm over gently simmering water or in a double boiler for up to an hour, stirring occasionally.
This locally inspired recipe is brought to you by Pam Walker. Pam is an avid home cook, writer, and local farm and food activist who is also a board member of the Santa Fe Farmers' Market Institute. Thank you, Pam, for helping inspire us to use locally sourced ingredients!