Simple Late-Summer Market Supper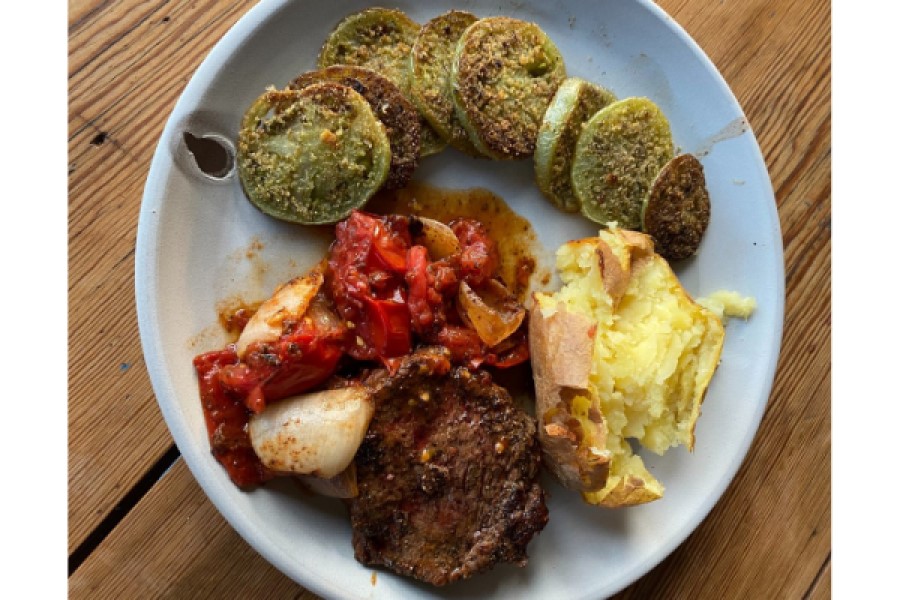 As summer gives way to fall, temperatures will drop, and our long, glorious tomato season will end. I love both green and ripe tomatoes, and recently included both in a simple supper of fried green tomatoes, a baked potato, and a flatiron steak with ripe tomatoes and onions.
It made a perfect farewell-to-summer supper.
I put the potato into a 425 degree oven to bake for about an hour as I prepared the other parts of the meal.
I sliced medium-sized, firm green tomatoes from Vagabond Farmers, salted the slices, and let them drain on paper towels for about half an hour. Once drained, I coated the slices on both sides with corn flour, or masa, seasoned with salt, pepper, and cayenne (a local red chile powder would do just as well). I fried them gently in grapeseed oil in a cast iron skillet, browning each side and then placing them on a paper towel to sop up excess oil.
I coated both sides of a thin, beautiful, flat iron steak of about 6 ozs. from Triology Beef with a salt and black pepper rub. I sliced a red tomato and several small onions. I heated a cast iron skillet on medium-high heat, added just a little grapeseed oil, and then skillet-grilled the steak on both sides, adding the tomatoes and onion to the skillet with the steak when the second side of the steak was nearing doneness. Doneness depends on how you like your steak – well done, medium well done, medium rare, or rare. I like mine rare to medium rare, so I didn't grill it long.
This locally inspired recipe is brought to you by Pam Walker. Pam is an avid home cook, writer, and local farm and food activist who is also a board member of the Santa Fe Farmers' Market Institute. Thank you, Pam, for helping inspire us to use locally sourced ingredients!