Chicken Tinga (Tinga de Pollo)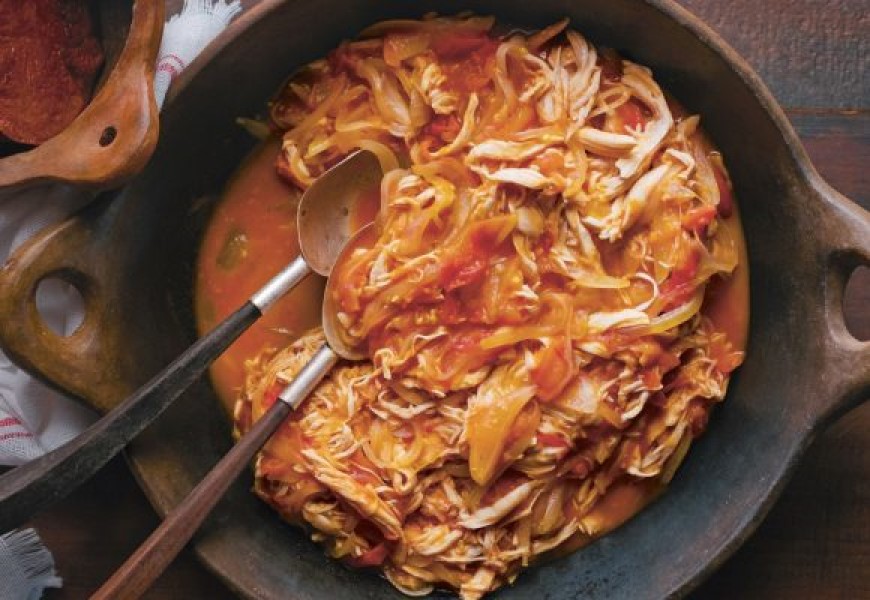 Image courtesy of Araceli Cruz, Splendid Table.
Who doesn't love chicken soup or stew, especially a robust, picante one? How else to account for the popularity among New Mexicans of green chile chicken soup? This chicken tinga is equally satisfying.
It's from Tu Casa Mi Casa: Mexican Recipes for the Home Cook by Enrique Olvera with Luis Arellano, Gonzalo Gout, Daniela Soto-Innes, by way of a Splendid Table newsletter. Part of its appeal is its versatility. As the newsletter editors note, "It can be a soupy stew served over white rice and with tortillas. If you cook it down to thicken a bit more, it is a great topping on a tostada with fresh shredded lettuce, some crema, cheese, and fresh salsa."
For outstanding chicken, find Lotus Farms at the Market.
1 lb (455 g) skinless, boneless chicken breast
2 large white onions, 1 halved and 1 sliced
6 garlic cloves, 3 whole and 3 sliced
1 tablespoon salt, plus more to taste
3 tablespoons vegetable oil
4 dried or canned chipotle chiles, chopped to a paste
9 plum tomatoes, roughly chopped
In a medium pot, combine the chicken, onion halves, whole garlic cloves, and 1 tablespoon of the salt. Add water to cover and bring to simmer over medium-high heat. Simmer, uncovered, until the chicken is cooked through, 30–40 minutes, skimming occasionally to remove impurities.
Remove the chicken from the broth and let rest until it is cool enough to handle. Using your hands, pull or shred the chicken and reserve. Strain and reserve the broth as well.
In a medium to large pot, heat the oil over medium heat. Add the sliced onion and garlic and cook until translucent, about 5 minutes.
Add the reserved shredded chicken, the chipotle chiles, tomatoes, and 1 cup (240 ml/8 fl oz) of the chicken broth (reserve the rest for other preparations). Cook until the tomato breaks down and changes to a brick color, 5–10 minutes.
Season to taste with salt. Add some more cooking broth if necessary; it should be a bit soupy.
Serve hot or let cool and refrigerate for up to 1 week or freeze for up to 1 month in an airtight container.
This locally inspired recipe is brought to you by Pam Walker. Pam is an avid home cook, writer, and local farm and food activist who is also a board member of the Santa Fe Farmers' Market Institute. Thank you, Pam, for helping inspire us to use locally sourced ingredients!