Baked Eggs With Mushroom and Spinach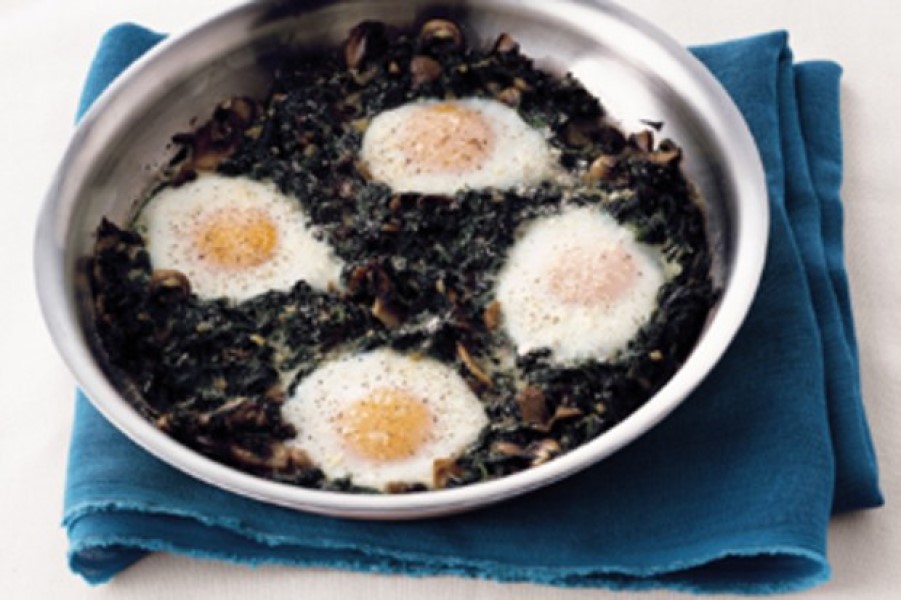 Image courtesy of Epicurious.
Comfort food never gets old, and this dish is layer upon layer of comfort.
This recipe is adapted from an Epicurious recipe and one in Douglas Merriam's Farm Fresh Journey: Santa Fe Farmers Market Cookbook. Most of the ingredients are currently available in the Market. Plenty of spinach is appearing at the Market now from a number of farmers, including Bodhi Farms' beautiful, baby spinach. Eggs are available from a number of producers, too. And mushrooms from Southwest Mushroom Cultivators are a delicious constant. Camino de Paz usually offers goat's milk, and green chile sausages made of various meats are almost always available from our meat producers. Though garlic is in short supply while this year's crop is coming along, some can still be found, or if you stocked up on Revolution Farm's garlic powder, as I did, it's a good substitute.
2 tablespoons unsalted butter, softened
8 ounces shiitake mushrooms, chopped
6 ounces spinach, thick stems trimmed, chopped
1 garlic clove, diced
1 cup goat's milk
4 eggs, at room temperature
salt and pepper to taste
4 green chile sausages, optional
Preheat the oven to 375 degrees F if using ramekins, or to 450 F if using a skillet. Use one tablespoon softened butter to grease a small-to-medium sized skillet or the insides of four ovenproof ramekins.
Melt the remaining tablespoon of butter in a skillet over medium heat, add the mushrooms and sauté until tender, about 3 minutes. Add spinach, garlic, and goat's milk and simmer about 5 minutes, season with salt and pepper to taste.
Put the mixture into the skillet or divide it among the ramekins, saving about ¼ cup to top each ramekin. Break the eggs into the skillet or into each ramekin, then place a tablespoon of the reserved mushroom spinach mixture over and around each egg.
Put the ramekins in a roasting pan and fill the pan with hot water until the water level is about half way up the ramekins. Place the pan in the oven and bake until the eggs are set, about 20 minutes; remove from oven.
If using a skillet, place the skillet on a rack in the upper third of the oven and bake, uncovered, until the egg whites are set but yolks are still runny, about 7 to 10 minutes.
While the eggs are baking, if serving sausages, cook them in a skillet over medium heat until browned and cooked through, about 15 minutes. Serve each baked egg with a sausage, if desired.
This locally inspired recipe is brought to you by Pam Walker. Pam is an avid home cook, writer, and local farm and food activist who is also a board member of the Santa Fe Farmers' Market Institute. Thank you, Pam, for helping inspire us to use locally sourced ingredients!