Sunchoke, Broccoli Stem, and Green Onion Soup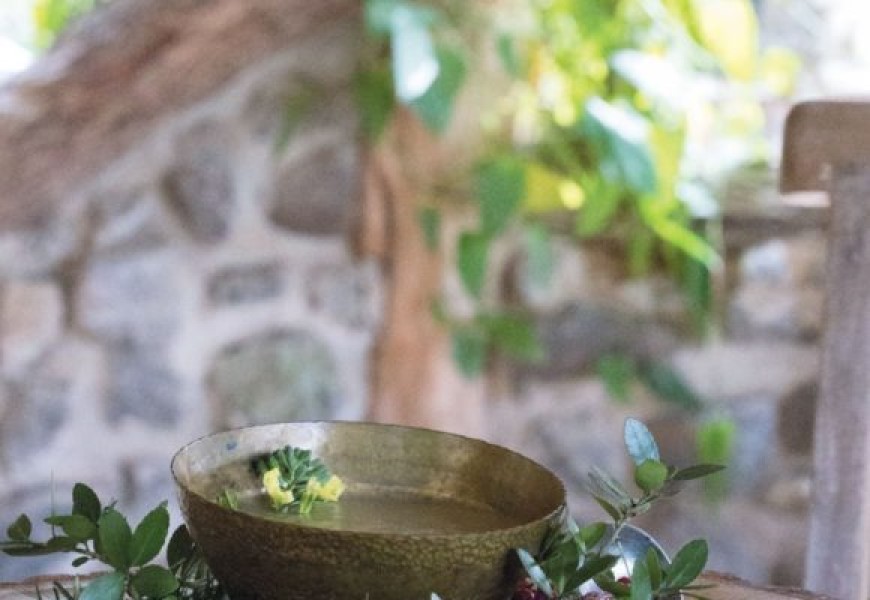 Image courtesy of Edible Houston.
Here's to spring with a spring soup! The recipe comes from my friend Chandler Rothbard, a Houston chef, by way of Edible Houston magazine. Chandler also farms at Laughing Frog Farm, which a little northwest of Houston, my hometown.
The main vegetables are currently available at the Market from a number of vendors. For stock or broth, we're lucky that we can now choose from an interesting variety prepared by Madre Foods, a great recent addition to the market.
3/4 pound sunchokes, washed and sliced
2 ounces (about ⅓ cup) green onion whites, sliced
4 ounces (about 1¼ cup) broccoli stems, sliced
2 green garlic shoots (or 2 garlic cloves)
1/4 cup white rice
Water or stock, enough to cover your vegetables by 1 inch
Olive oil
Juice of 1/2 lemon
1/2 cup dry vermouth or white wine
Salt and white pepper
Heat oil in a medium pot. Add sunchokes, green onion, broccoli stems and green garlic; sweat until translucent.
Add dry vermouth or white wine and cook until reduced by half.
Add water or stock and rice. Let simmer until rice is cooked and vegetables are tender.
Transfer soup to a blender and purée until smooth. If too thick, add more water or stock.
Season with salt, white pepper and lemon juice. Pour soup into bowls and serve.
Soups are great with garnishes. Try raw or al dente broccoli florets, julienned raw sunchokes and thinly sliced green onion tops when serving this one—or lay them out on the table for your guests to add what they wish.
Cooking is about customizing flavors to your taste. Don't worry about being exact. Try whatever ingredients you have on hand. Instead of green garlic, use regular garlic or leave it out. Lemon juice can be substituted with white wine vinegar or rice vinegar.
This locally inspired recipe is brought to you by Pam Walker. Pam is an avid home cook, writer, and local farm and food activist who is also a board member of the Santa Fe Farmers' Market Institute. Thank you, Pam, for helping inspire us to use locally sourced ingredients!