Local assorted mushroom croquetas with Tucumcari Mountain yellow cheddar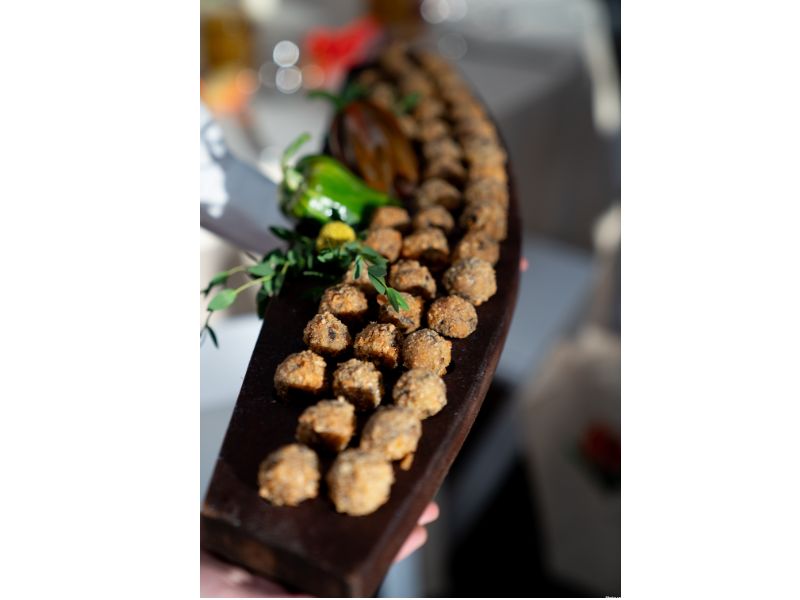 Yields 24 mini croquetas
1/8 lb grated Tucamari Mountain Cheddar

1/4 lb assorted local mushrooms finely diced (We used Lion's mane and Shitake from Southwest Mushroom Cultivators, a Santa Fe Farmers' Market vendor)
2 egg (1 for croquetas mix, 1 for egg wash)
3 shallots, minced
1 garlic clove, minced
3/4 cup panko + 1/4 cup to coat
1/4 cup Extra Virgin Olive Oil
Oil for frying
Salt and pepper to taste
Heat 1 tablespoon of oil in a large pan over medium heat. Add the onion and cook until transparent then add the garlic and cook until soft and fragrant. Remove to a plate lined with a paper towel to drain excess oil

.

Squeeze mushrooms in a kitchen towel to remove excess moister. Add half of the olive oil to heated pan and add mushrooms in batches creating a single layer in the bottom of the pan. Do not over crowd as they will steam rather than fry. Add oil as needed. Once browned, season with salt and pepper and remove to the plate with the onions and garlic and fry the second batch of mushrooms. Change paper towel as needed and set aside let cool.
When the mix has cooled,

 fold in the cheese when you

add 1 egg, 3/4 cup panko. Mix together until the mixture can form balls. Form mini croquetas with melon baller or small ice cream scoop. Refrigerate for at least 2 hours or preferably over night.
Make an egg wash with 1 egg and a teaspoon of water. Season with salt and pepper. Pull croquetas from refrigerator and roll them in egg wash and seasoned panko crumbs to coat.
Deep fry for 2 to 4 minutes until golden brown and enjoy!