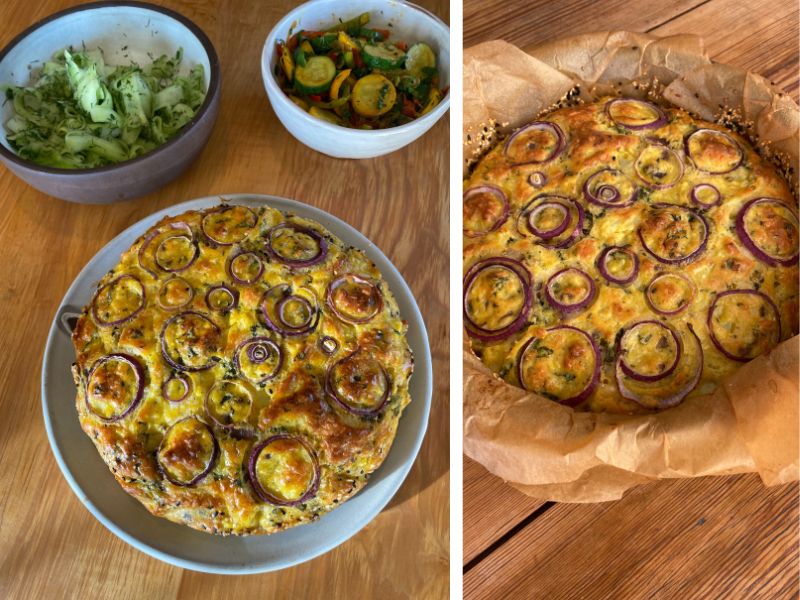 My daughter-in-law Catherine is a fabulous cook.  Recently, for the second time, I got to eat her cauliflower pie, from a recipe by Chef Yotam Ottolenghi in his book Plenty More. I loved it the first time and loved it even more the second time.  I renewed my intention to make it myself, and only a week ago, I did, with cauliflower fresh from Stone Ground Farm.  (Malandro Farm also has beautiful cauliflower.)
 In the course of buying the ingredients, I discovered that nigella seeds can be hard to come by.  Black sesame seeds are a good substitute.  
I served it, as Ottolenghi suggests, with a simple cucumber salad combined with mint and dill and a simple, lemony vinaigrette.
1 small cauliflower, outer leaves removed, broken into 1 1/4-inch/3-cm florets (1 pound/450 g)
1 medium red onion, peeled (6 ounce/170 g)
5 tablespoons/75 ml olive oil
1/2 teaspoon finely chopped rosemary
7 eggs (scant 1 pound/440 g)
1/2 cup/15 g basil leaves, chopped
1 cup/120 g all-purpose flour, sifted
1 1/2 teaspoons baking powder
1/3 teaspoon ground turmeric
5 ounces/150 g coarsely grated Parmesan or another mature cheese
Salt and black pepper
Melted unsalted butter, for brushing
1 tablespoon white sesame seeds
1 teaspoon nigella seeds
Preheat the oven to 400°F/200°C.
Place the cauliflower florets in a saucepan and add 1 teaspoon salt. Cover with water and simmer for 15 minutes, until the florets are quite soft. They should break when pressed with a spoon. Drain and set aside in a colander to dry.
Cut 4 round slices off one end of the onion (each 1/4 inch/5 mm thick) and set aside. Coarsely chop the rest of the onion and place in a small pan with the oil and rosemary. Cook for 10 minutes over medium heat, stirring from time to time, until soft. Remove from the heat and set aside to cool. Transfer the onion to a large bowl, add the eggs and basil, whisk well, and then add the flour, baking powder, turmeric, Parmesan, 1 teaspoon salt, and plenty of pepper. Whisk until smooth before adding the cauliflower and stirring gently, trying not to break up the florets.

Line the base and sides of a 9 1/2-inch/24-cm spring-form cake pan with parchment paper. Brush the sides with melted butter, then mix together the sesame and nigella seeds and toss them around the inside of the pan so that they stick to the sides. Pour the cauliflower mixture into the pan, spreading it evenly, and arrange the reserved onion rings on top. Place in the center of the oven and bake for 45 minutes, until golden brown and set; a knife inserted into the center of the cake should come out clean. Remove from the oven and leave for at least 20 minutes before serving. It needs to be served just warm, rather than hot, or at room temperature.
This locally inspired recipe is brought to you by Pam Walker. Pam is an avid home cook, writer, and local farm and food activist who is also a board member of the Santa Fe Farmers' Market Institute. Thank you, Pam, for helping inspire us to use locally sourced ingredients!