Cafe Pasqual's Zucchini Blossoms Stuffed With Herbed Goat Cheese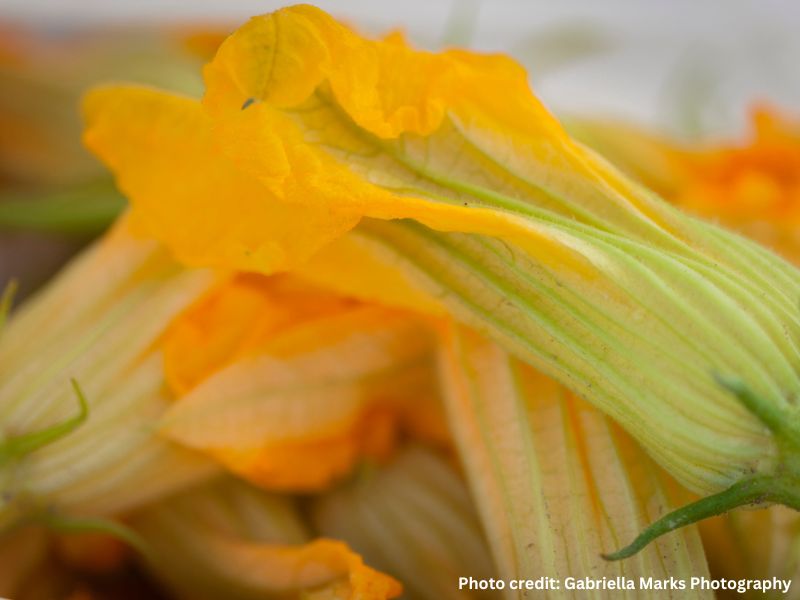 For many years, Dinner Chef Nestor Pereira has shopped at the Saturday morning Railyard District Market for Café Pasqual's. He arrives with a list of essentials for the menu that he and Katharine plan together. Of the partnership, he says that she has "wonderful creativity" that inspires him. He regularly purchases delicate squash blossoms from Rosa Maria Alcantar of Rocio Produce and varies the stuffing from goat cheese to sausage as the seasons change. 
12 freshly picked zucchini squash blossoms, with stems attached

8 ounces plain goat cheese, softened

¼ cup grated parmesan reggiano

1 Tablespoon finely chopped fresh thyme leaves

pinch kosher salt

1 teaspoon freshly ground black pepper

1 cup panko crumbs, gluten free

1

egg, beaten

olive oil for frying
Combine the goat cheese and parmesan in an electric mixer fitted with the paddle attachment, or in a large bowl by hand just to combine, being sure to add in the thyme leaves, salt and pepper just to combine and distribute.

Carefully remove the anther from the center of the flower. (The small square interior "bump"). Spoon or pipe in the cheeses and thyme mixture, twist the tops of the blossoms to "seal".

Roll the stuffed blossoms in the egg mixture just to moisten and then into the panko.

Over medium heat, put in enough olive oil to cover the bottom of a non-stick pan. Saute the blossoms without crowding them for 2 minutes on each side until the panko has turned golden and the cheese is heated through. 

Cook in batches to assure a golden result. Keep the finished blossoms warm in a low oven until all are cooked – 200 degrees with the door open.

Serve warm, do not eat the stems, but do serve them as to provide visual delightful detail.