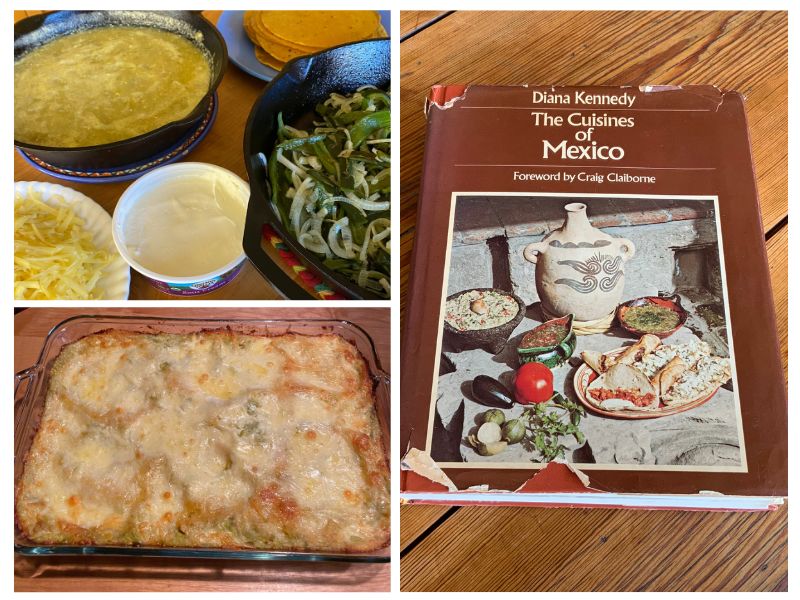 Adapted from Diana Kennedy's "The Cuisines of Mexico" (Harper & Row, 1972) adapted by Brenda Bell for the  Los Angeles Times, February 21, 1999.
This recipe is to honor Diana Kennedy, who died this week at the age of 99. Diana Kennedy's books and the research behind them began enriching my life in 1975, with the publication of The Tortilla Book and my stumbling on it, probably at Garner and Smith Books on "The Drag" in Austin, and purchasing it for its full price, $4.95. That book, the first of many by Kennedy that I would buy and use avidly over the years, introduced me to black beans and epazote, to tomatillos and tomatillo salsas, and to many other dishes that led me to enjoy genuine Mexican foods from then on. I got to meet Kennedy twice at book signings at Hugo's in Houston. I stood in long lines both times to buy her latest book and have her sign it. She was ebullient, witty, energetic, entirely charming. I am forever grateful to Kennedy for making my life more delicious and interesting than it would be without her work. 
Budin Azteca is a casserole, sort of an enchilada casserole. It's one of my favorites for lunch or dinner parties. Many of the main ingredients are currently available at the market – garlic and onions from many farmers, chicken from Lotus Farms – and poblanos and other hot chiles will soon appear. To roast the poblanos, I don't put them in a broiler but instead place them on the open flame of my gas cookstove and then sweat them as described below and as Kennedy originally instructs. (I present this adaptation rather than Kennedy's original recipe because it presents the preparation process in a more straightforward chronological way.)
About 20 tomatillos, husks removed and rinsed

1 large onion, cut in half

2 cloves garlic

1/4 teaspoon sugar

3/4 teaspoon salt

3 tablespoons vegetable oil, plus extra to soften tortillas

8 poblano chile peppers

2 dozen small corn tortillas

2 cups poached chicken, lightly salted and shredded (I cook and debone a medium-sized fryer, about 3 1/2 pounds)

1 1/2 cups sour cream

1 3/4 cups grated Monterey Jack or queso asadero cheese
Put tomatillos in saucepan, barely cover with water, bring to boil and simmer 10 minutes. Drain, reserving 1/2 cup cooking water. Chop 1/2 onion and garlic in food processor. Add tomatillos, reserved cooking water, sugar and 1/2 teaspoon salt and blend to make sauce. Heat 1 tablespoon oil in skillet and cook sauce over high heat 8 minutes until thickened.

Roast poblano chile peppers under broiler until slightly charred on all sides. Put in plastic bag to "sweat" 15 minutes. Remove skins and cut peppers into strips. Saute 1/2 onion in 2 tablespoons oil until soft. Add peppers and 1/4 teaspoon salt and cook a few minutes longer. Let cool.

Heat small amount of oil in small skillet and lightly cook tortillas one by one for a few seconds until warm. Drain on paper towels. (You can skip this step, but the tortillas hold up better in the casserole after being "fried.") Spread 1/3 of tortillas in bottom of large casserole dish. Layer with half of chicken and peppers and 1/3 of sauce, sour cream and cheese. Repeat layers and finish with remaining sauce, sour cream and cheese. Bake at 350 degrees 30 minutes. Serve.
This locally inspired recipe is brought to you by Pam Walker. Pam is an avid home cook, writer, and local farm and food activist who is also a board member of the Santa Fe Farmers' Market Institute. Thank you, Pam, for helping inspire us to use locally sourced ingredients!