Skillet-grilled round steak and blistered shishito peppers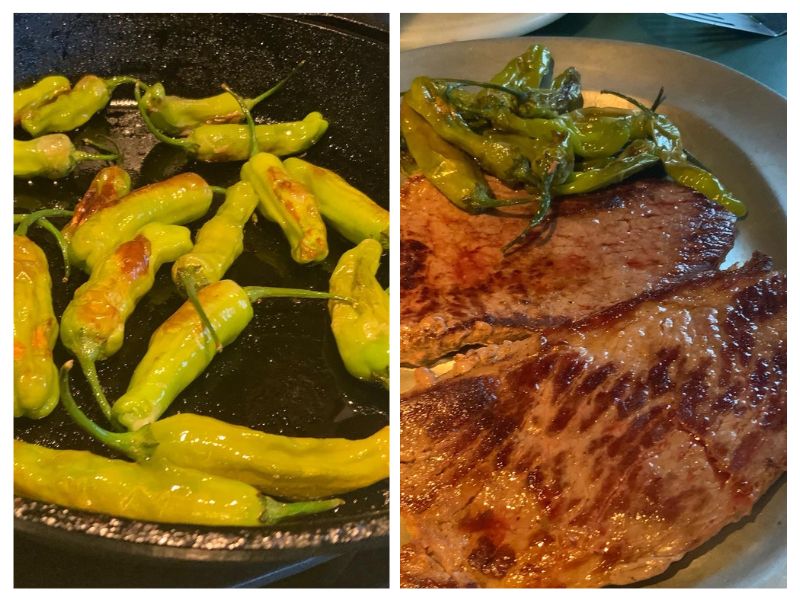 Shishito peppers are abundant at the market these days from a number of farmers.  I like to blister them in olive oil in a cast-iron skillet, let them cool to room temperature, and serve them as appetizers.  I also like blistering them and eating them with a beef steak grilled stovetop in a cast-iron skillet, and this is what I did just last week, using shishitos from Freshies and a thin, pulverized round steak from Lazy BG.  It's simple and delicious.  
To blister the shishitos, I bring a cast-iron to medium or medium-high heat, add olive oil, and saute the peppers until they're blistered but not charred.  I drain them on a paper towel and salt them to taste.
To grill the steak, I salted and peppered both sides.  I brought a separate cast-iron skillet to medium to medium-high heat and added olive oil and then the steak, grilling it about five minutes on each side.
I served the steak and shishitos together.  My side dishes were summer squash sauteed with a bit of tomato and garlic and a mixed lettuce salad.
This locally inspired recipe is brought to you by Pam Walker. Pam is an avid home cook, writer, and local farm and food activist who is also a board member of the Santa Fe Farmers' Market Institute. Thank you, Pam, for helping inspire us to use locally sourced ingredients!