Sweet Corn and Black Bean Soup With Red Chile Cream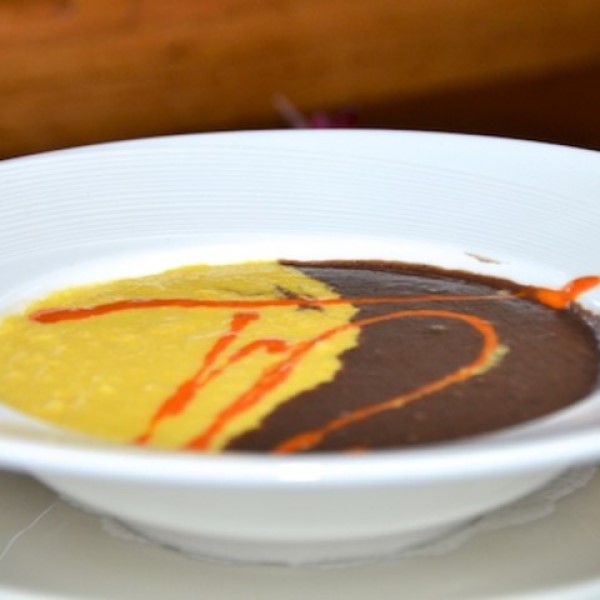 I recently spent a night at La Posada, a Winslow, Arizona hotel designed by Mary Colter and originally operated by the Fred Harvey Company. It opened in 1930 and closed in 1957. The building then served as offices for the Santa Fe Railroad until 1994, when Allan Affeldt and Tina Mion purchased it in order to prevent its destruction and revive it as a hotel. In 2000, the noted chef John Sharpe brought the hotel restaurant back to life, naming it the Turquoise Room and making it as much a destination as the hotel. Sharpe owns and operates the Turquoise Room to this day.
At one of my meals there, I ate this soup. Sharpe bills it as the restaurant's "Signature Soup" because it's the most requested item on the menu. It is really two soups in one, and its presentation is as beautiful as the soup is delicious.
I couldn't resist buying a copy of Sharpe's La Posada's Turquoise Room Cookbook, with photographs by Christopher Marchetti. It includes not only photographs of food but also of the hotel, past and present.
1 lb washed black beans (soak for 12 hours)
1/2 Tbsp. New Mexico mild chile powder
1 tsp ground cumin
1/2 tsp oregano
1/2 tsp marjoram
1/2 tsp ground coriander
1/4 tsp ground white pepper
1 small bay leaf
1/2 cup diced onion
1 tsp salt
1 Tbsp fresh garlic
2 Tbsp unsalted butter
1 qt. water
Wash and soak the beans in cold water and leave to soak overnight. Place in a large thick bottom pot with all the ingredients. Bring to a boil and simmer for 1 1/2 hours till the beans are tender. Remove the bay leaf and discard. Place the beans in a blender until smooth. Dilute with water as needed. The soup can be made one day ahead and reheated.
Cream of Yellow Corn Soup
2 lb cut fresh yellow corn off the cob
12 oz sliced white onion
2 oz butter
3 cups heavy cream
2 cups water
1 level teaspoon salt
Find the freshest corn you can and cut it off the cob making sure you scrape the cob to extract all of the milk. This is the sweetest part of the corn.
Saute the onions in a thick bottomed pan until soft but not brown.
Add the rest of the ingredients and bring to a boil. Simmer for 10 minutes and remove from the heat.
Place in a blender and puree till smooth. If the corn is not sweet you may add a little sugar to taste.
This corn soup recipe may be made ahead of time and kept warm in a double boiler.
Red Chile Cream (for the stripe)
1 cup sour cream
1/3 cup roasted red peppers, peeled and seeded
Canned pimentos may be used
1 tsp chipotle puree (see below)
Salt and pepper to taste
Place all of the ingredients in a food processor or blender and blend until smooth. Pass the sauce through a fine strainer. Place in a squeeze bottle and refrigerate until needed.
1 can (any size) chipotle in adobado sauce
1 can of water
Place the entire contents of a can of chipotle in adobado sauce in a blender. Fill the empty can with water and add the water to the blender. Blend until smooth. The sauce ma be refrigerated in a covered container and kept in the refrigerator for weeks.
Due to the starches in both soups, they will thicken as they sit. It is important for both soups to be the same consistency so that when they are placed in the bowl they stay separate. You may adjust them with hot water at the time of service to achieve the desired consistency.
Place the hot soups side by side on your prep counter. Using a 4-ounce ladle for each soup, scoop a ladle of each and pour into the serving bowl at the same time and speed. As this is difficult and may require practice, try it a few times with water first.
To finish, squeeze a stripe of Red Chile Cream on top of the soup, or use your own signature.
This locally inspired recipe is brought to you by Pam Walker. Pam is an avid home cook, writer, and local farm and food activist who is also a board member of the Santa Fe Farmers' Market Institute. Thank you, Pam, for helping inspire us to use locally sourced ingredients!