South Indian Mixed-Vegetable Curry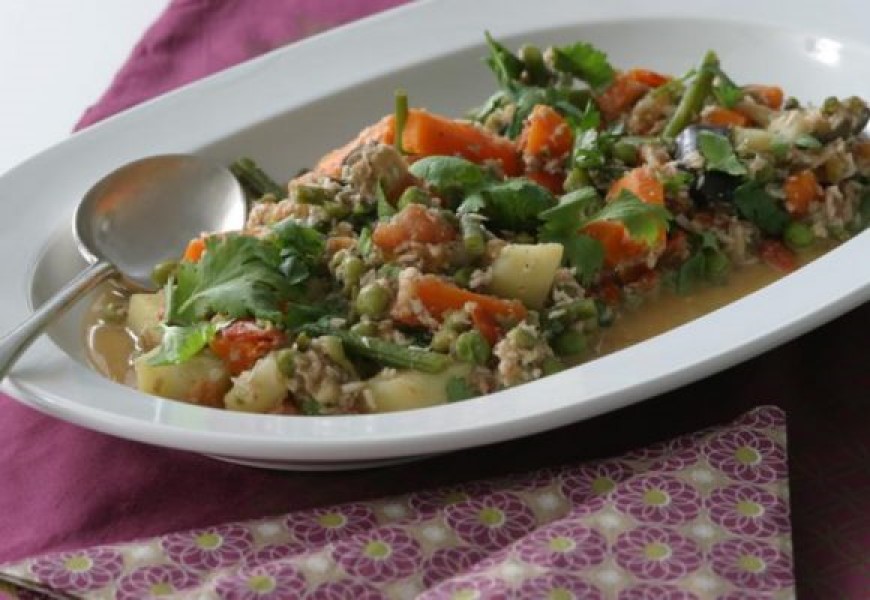 Image courtesy of the BBC.
With a great variety of vegetables in the Market these days, I found myself wanting a mix of vegetables inspired by a region of India that would be simple to prepare. And so I pulled from my shelves Madhur Jaffrey's At Home with Madhur Jaffrey and settled on this mixed-vegetable curry.
Jaffrey notes that the dish is known as a vegetable kurma in the Tamil Nadu region and that there are countless varieties of it. She says, "The motto of this dish seems to be 'What have you got? I can use it.'"
She likes serving it when her garden is at its summer peak, as a side dish with some sort of meat.
Salt
2 medium carrots (about 6 ounces), peeled and cut into ½-inch dice
1 cup green beans (flat or rounded), cut into ½-inch setments
1 cup peas, fresh or frozen and defrosted
3 tablespoons grated fresh coconut (available in frozen form at most South and Southeast Asian stores)
6 tablespoons plain yogurt
¼ – ½ teaspoon cayenne pepper
2 tablespoons olive or canola oil
½ teaspoon skinned urad dal or yellow split peas
1 dried hot chili
10-15 fresh curry leaves, or 6 basil leaves, torn up
Bring 1 cup water to a boil in a small pan. When boiling, add ½ teaspoon salt and the carrots, beans, and peas. Boil for about 3-4 minutes or until vegetables are just tender. Drain and put in a bowl.
Combine the coconut, yogurt, cayenne, and ½ teaspoon salt, stirring well to make a sauce. Pour this over the vegetables. Do not mix yet.
Pour the oil into a small frying pan and set over medium-high heat. When hot, put in the mustard seeds, urad dal, and red chili. As soon as the mustard seeds begin to pop, a matter of second, put in the curry leaves and then pour the oil and spices over the coconut-yogurt dressing. Now mix the vegetables gently with the dressing and spices, and serve warm or at room temperature.
Madhur Jaffrey is an Indian-born actress, food and travel writer who is recognized for bringing Indian cuisine to the western hemisphere with her debut cookbook, An Invitation to Indian Cooking (1973), which was inducted into the James Beard Foundation's Cookbook Hall of Fame in 2006.
This locally inspired recipe is brought to you by Pam Walker. Pam is an avid home cook, writer, and local farm and food activist who is also a board member of the Santa Fe Farmers' Market Institute. Thank you, Pam, for helping inspire us to use locally sourced ingredients!