Yellow Indian Woman Beans With Lemon and Dill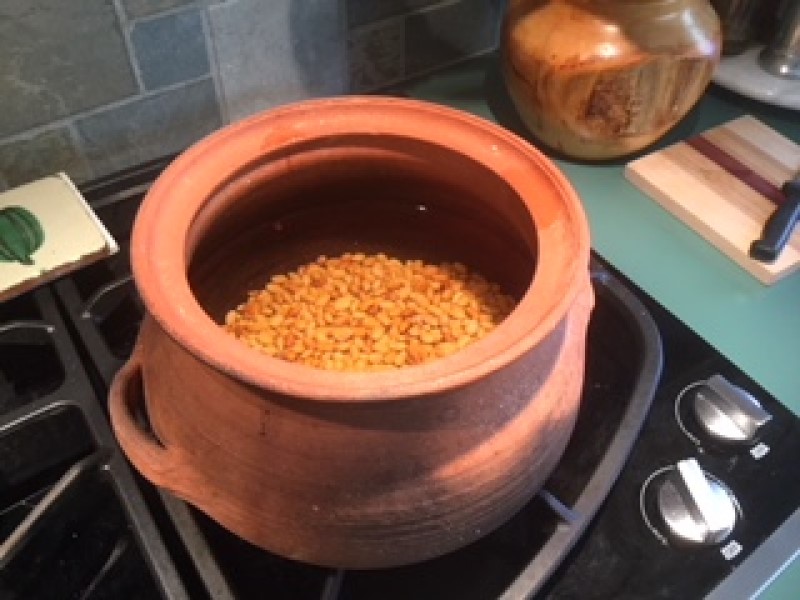 Malandro Farm has been bringing one-pound bags of an heirloom bean called Yellow Indian Woman beans to market. The Malandro farmers got some of these beans from farmers in Montana, and discovered that they do well in northern New Mexico. Pale gold and small before cooking, these beans, during cooking, take on something of a pinto-bean color, though not a pinto taste, and they grow plump.
I love beans and am always delighted to discover varieties that are new to me. Out of curiosity about this new bean, I went online and found this recipe that incorporates two ingredients I've never cooked with beans before – lemon and dill. I like the combination a lot. The lemon and dill give a nice, slightly sharp and savory edge to the comparative sweet tastes of the beans and onions.
The recipe indicates a 40-minute simmering time for pre-soaked beans, but I don't like pre-soaking beans. Instead, I simmer beans for hours, savoring the changing scent in advance of sitting down to eat them.
Yield: 10 minutes preparation time, plus time for soaking the beans, 40 minutes cooking time
1 pound dried Yellow Indian Woman Beans or cannellini beans
2 tablespoons butter
1 tablespoon olive oil
1 large onion
zest of 1 lemon, plus wedges for serving
1/2 cup (or more) chopped dill, divided
2 teaspoons salt (or more to taste)
2 small tomatoes, diced
Soak the beans overnight or quick soak them. Although the Yellow Indian Woman Beans are dried, they are fresher than those on the grocery store shelf and so will take less time to cook, so if you have not soaked them, you can just bring them to a boil and let them simmer about an hour before you begin the recipe. This would also work for cannellini beans, but they will take more time, I'd say about an extra hour.
Heat the butter and olive oil in a large saute pan. Add the onion and saute until the onion is soft, 7 to 8 minutes. Add the beans with their water, the lemon zest, half of the dill, and the salt. Let the bean mixture simmer until the beans are quite soft, approximately 30 minutes. Mash some of the beans against the side of the pot. Just before serving, add the rest of the dill and the tomatoes and stir just until the tomatoes are warm. Taste the beans and adjust the flavors to your liking, adding more dill, salt, or a few squirts of lemon juice. Serve over toast with a lemon wedge and a sprinkle of chopped dill for those who want a little extra.
This locally inspired recipe is brought to you by Pam Walker. Pam is an avid home cook, writer, and local farm and food activist who is also a board member of the Santa Fe Farmers' Market Institute. Thank you, Pam, for helping inspire us to use locally sourced ingredients!