Winter Greens – Simple or Fancy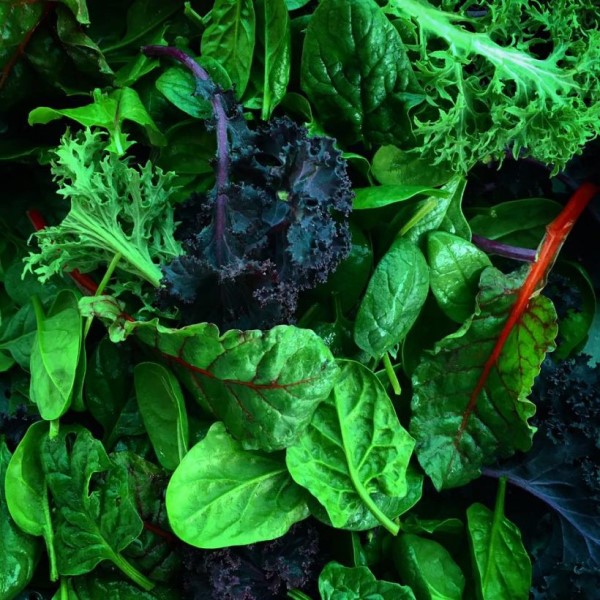 Image courtesy of Revolution Farm.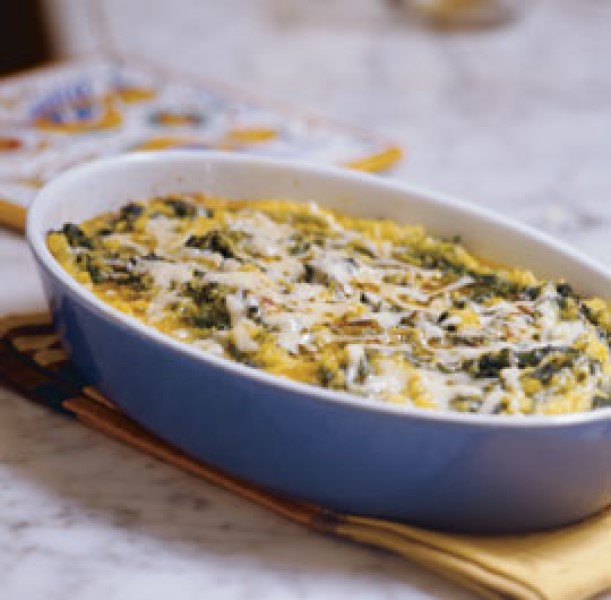 Image courtesy of Fine Cooking.
Winter greens abound at the market these days – spinach, kales, mustards, beet and turnip greens, and more. I stock up each Saturday and saute the greens several times a week with garlic (from the market) and olive oil, and then I go from there. Sometimes I add them to a pot of white beans simmered with a bit of pork (also from the market). Sometimes I heap them onto a thick piece of toast, top them with an egg-over-easy, and then add a few drops of pepper sauce – a perfect open-faced sandwich. And sometimes while sautéing the greens, I cook grits and eat the grits and greens alongside each other. Each of these preparation methods is quick, easy, tasty, and nutritious.
But when I have more time, I love preparing my Market greens according to a fancier recipe called "Polenta Torta With 'Apron Greens'" from Paula Wolfert's wonderful cookbook Mediterranean Grains and Greens. And so I was delighted at a recent market to find Monte Vista Organic Farm selling bags of ground floriani red flint corn, an heirloom Italian variety prized for its exceptional flavor and nutritional value. The result? I went home and made my best ever polenta torta with greens.
Polenta Torta With "Apron Greens"
From Paula Wolfert's Mediterranean Grains and Greens:
"This polenta torta makes a very substantial side dish or may be served as a light supper dish on its own. 'Apron Greens' are the wild and garden greens that Mediterranean women gather, tucked in the front pocket of their aprons. Often a woman's apron pocket will be divided into several compartments for 'sweet' greens, 'bitter' greens — and perhaps a third for wild mushrooms."
4 cups lukewarm water
1 cup fresh, organic, stone-ground, medium- or coarse-grind cornmeal
1 teaspoon salt
1 1/2 pounds mixed tender greens: arugula, peppercress, spinach, kale, plus a few sprigs of dill or fennel
3 tablespoons olive oil
Freshly ground black pepper
1/4 teaspoon crushed pepper flakes
1 clove garlic, peeled
1/2 cup grated pecorino Romano cheese
About 2 hours before serving, preheat the oven to 350 degrees.
Prepare the polenta: Place the water, cornmeal, and salt in a well-oiled, ovenproof saucepan. Set in the oven, uncovered, to cook for 50 minutes.
Meanwhile, wash the greens, cut away the thick stems, and chop the leaves coarsely. Heat the olive oil in a 10-inch skillet, add a pinch of black pepper, pepper flakes, and garlic and cook for 1 minute. Tilt the skillet and transfer half the oil to a 5- or 6-cup baking-serving dish. Discard the garlic. Brush the peppered oil over the bottom and inside of the serving pan. Tilt to recoup a tablespoon of "red" oil and reserve for sprinkling over the final dish.
Add the chopped greens to the skillet, cover, and cook over moderate heat for 10 minutes or until they are tender, stirring from time to time so that the leaves cook evenly. Season with salt and pepper. Increase the heat at the end to evaporate any liquid. Makes 1 1/2 cups.
When the polenta has cooked 40 minutes, stir in half the cheese and continue to bake 10 more minutes. Reheat the greens. Remove the polenta from the oven, quickly spread half the polenta into the prepared serving dish, distribute the greens on top, and cover with a layer of the remaining polenta. Let the torte rest for 5 minutes. Scatter remaining cheese on top and drizzle with the reserved "red" oil; return to the hot oven for 10 more minutes. Serve hot.
This locally inspired recipe is brought to you by Pam Walker. Pam is an avid home cook, writer, and local farm and food activist who is also a board member of the Santa Fe Farmers' Market Institute. Thank you, Pam, for helping inspire us to use locally sourced ingredients!