Tomato Salad, also known as insalata di pomodori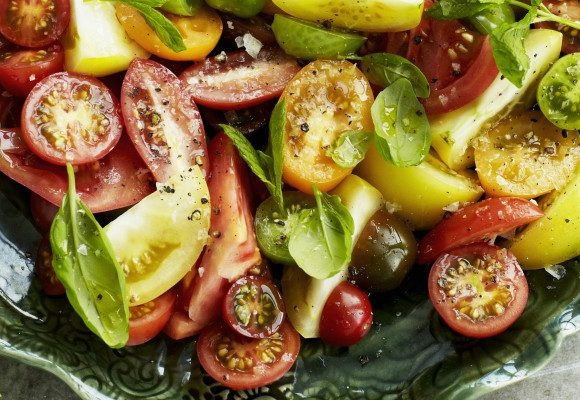 Recipe courtesy of Pamela Walker, writer and local farm and food activist: www.GrowingGoodThingsToEat.com
This salad of raw tomatoes with only two additional ingredients – fresh basil leaves, and olive oil – certainly exemplifies the principle of using the freshest, best ingredients available and honoring them by not messing them up. It comes from a beautiful little cookbook by Christopher Boswell called Verdure: Vegetable Recipes from the American Academy in Rome.
"For this salad, use sweet, juicy tomatoes only during those few weeks each year in which they are perfectly ripe," Boswell writes in his introduction to the recipe. "I like to use a few different types of tomatoes, to capture the variations in taste, texture, and color, and to showcase the unique qualities of each varietal."
With many varieties of heirloom and hybrid tomatoes increasingly appearing at the market, now is the time for tomato salad!
1 lb beefsteak or heirloom tomatoes, cored and cut into 1/8-inch-thick slices
Freshly ground black pepper, to taste
½ lb medium Early Girl tomatoes, cored and cut into thin wedges
20 small Italian basil leaves
¼ cup extra virgin olive oil
½ lb mixed cherry tomatoes, cut in half
Arrange the tomato slices on a large platter and season them with salt and pepper.
In a medium bowl, toss the tomato wedges with salt, 10 basil leaves, and 2 tablespoons olive oil. Let sit for 5 minutes.
In another bowl, toss the cherry tomatoes with salt, the remaining basil, and the remaining olive oil. Let sit for 5 minutes.
Spoon the tomato wedges and then the cherry tomatoes (with some of the tomato juices) over the sliced tomatoes, grind some pepper on top, and serve immediately.
This locally inspired recipe is brought to you by Pam Walker. Pam is an avid home cook, writer, and local farm and food activist who is also a board member of the Santa Fe Farmers' Market Institute. Thank you, Pam, for helping inspire us to use locally sourced ingredients!