Roasted Oyster Mushrooms with Corn Raita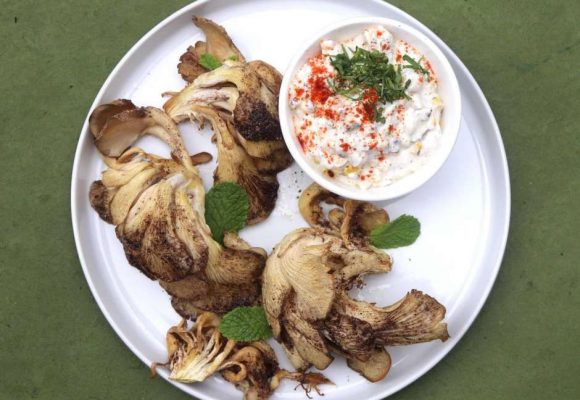 By Pamela Walker, writer and local farm and food activist (www.GrowingGoodThingsToEat.com)
One of the Houston restaurants I most miss since moving to Santa Fe three years ago is Pondicheri, created and run by Chef Anita Jaisinghani, with locations both in Houston and New York. This recipe of hers recently appeared in the Houston Chronicle.
In her introduction to the recipe, Jaisinghani writes, "I have experimented with dozens of ways to cook them [oyster mushrooms], but at home, oven roasting is the way to go. They will book through and hold their shape beautifully and, if over-cooked slightly, may collapse – but fear not, they will still taste delicious."
1-2 large-lobed oyster mushrooms (roughly 1 pound total)
½ teaspoon salt
1 teaspoon black pepper
1 teaspoon ground cardamom
2-3 tablespoons extra-virgin olive oil
Preheat the oven to 375 degrees. Cut the mushrooms into 3-4 large segments, leaving the overall shape intact. Place them on a greased baking sheet and sprinkle with the salt, black pepper and cardamom.
Drizzle the olive oil over the spices and place the pan in the oven for 5-7 minutes. Watch it carefully or the mushrooms may overcook or burn.
Remove the tray from the oven and let the mushrooms rest for 2-3 minutes before serving.
2 medium-sized ears of corn
1½ cups plain yogurt, nonfat or with fat
½ Serrano pepper, minced
½ teaspoon toasted ground cumin
1 tablespoon chopped mint
1 teaspoon salt
Sprinkle of chili powder (optional)
Grill the ears of corn over an open flame or a grill and remove the kernels.
Combine with yogurt, serrano, cumin, mint and salt. Sprinkle with chili powder and serve.
The mushrooms can also be chopped up and added to a salad or a sandwich.
If there are no large mushrooms to be found, use smaller ones but reduce the cooking time.
If you cannot grill corn, either boil the ears in salted water for 3-5 minutes or wrap them in foil and roast in a 350-degree oven for 15 minutes.
Frozen corn can replace the fresh corn.
This locally inspired recipe is brought to you by Pam Walker. Pam is an avid home cook, writer, and local farm and food activist who is also a board member of the Santa Fe Farmers' Market Institute. Thank you, Pam, for helping inspire us to use locally sourced ingredients!