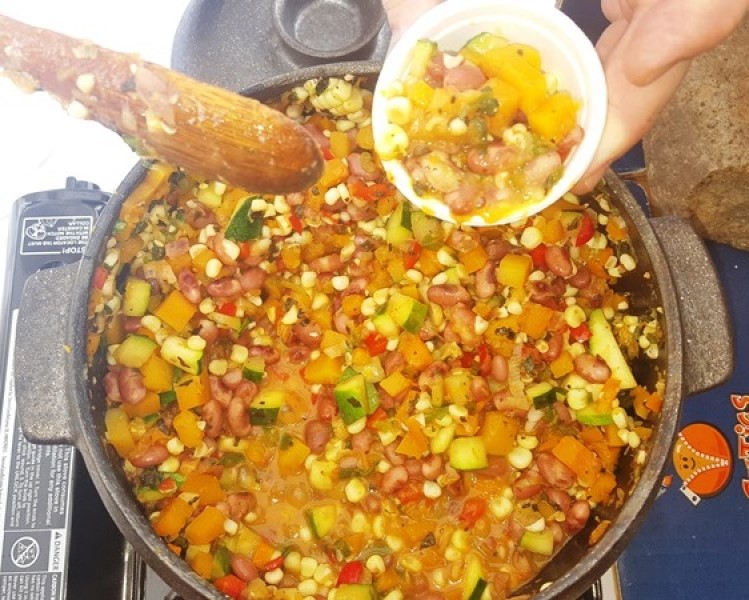 For many years the Institute has offered the Movies That Matter film series. This year, we teamed up with the CCA and the Street Food Institute to offer Farms, Films, Food: A Santa Fe Celebration. This event series is designed to celebrate Santa Fe's unrivaled love of great food and world-class cinema.
Our first event, held on May 11 at the CCA, was a success with an estimated 150-200 people attending.
One facet of the event is food demonstrations by a local chef, with the first demo done by Chef Greg Menke from The Beestro and The Hive Market. He show-cased a dish he called "Three Sisters Succotash." He prepared the dish in a beautiful, traditional micaceous clay pot.
Corn, beans, and squash: when planted together, they support one another's healthy and abundant growth. The maize provides a structure for the beans to climb, eliminating the need for poles. The beans provide the nitrogen to the soil that the other plants use, and the squash spreads along the ground, blocking the sunlight and helping to prevent establishment of weeds. The squash leaves also act as a "living mulch," creating a microclimate to retain moisture in the soil, and the prickly hairs of the vine deter pests.
The lustrous sparkle of micaceous pottery isn't just pretty. It's the essential ingredient to this historic cookware. The high mica content of the clay allows the vessels to withstand and conduct the heat from your stove top or cooking fire while adding a signature "sweetness" to beans and other dishes. Crafted by the potters of New Mexico for centuries, micaceous clay cooking vessels are a beautiful expression of our place and culture.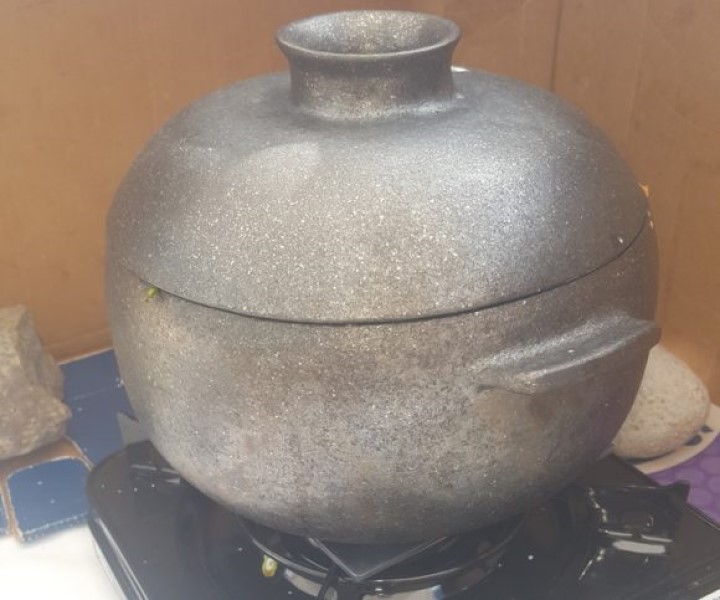 2 cup heirloom beans
2 cup sweet corn
2 cup zucchini, diced
2 cup butternut squash, diced
1/2 cup early spring onions, diced
1/4 cup red bell pepper, diced
1/4 cup yellow bell pepper, diced
1 tablespoon dried basil
1/2 teaspoon dried red chile powder
2 tablespoons sunflower oil
Heat oil in skillet over medium-high heat, then sauté onions in oil until translucent. Add chile powder and dried basil, then add the remaining ingredients and cook until tender. Season with salt and cracked pepper to taste.
This locally inspired recipe is brought to you by Pam Walker. Pam is an avid home cook, writer, and local farm and food activist who is also a board member of the Santa Fe Farmers' Market Institute. Thank you, Pam, for helping inspire us to use locally sourced ingredients!