Summer Minestrone Al Pesto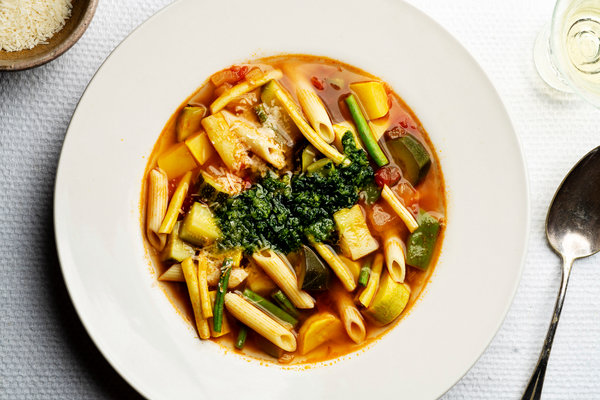 By Pamela Walker, writer and local farm and food activist (www.GrowingGoodThingsToEat.com)
This recipe is a cornucopia of summery things I love – fresh vegetables, all of which are available at the Market these days, pesto of basil and garlic (also available), and pasta. It's delicious and easy to prepare. Thank you, David Tanis of the NYT City Kitchen column!
For the soup:
3 tablespoons extra-virgin olive oil
1 large onion, diced, about 1 1/2 cups
Salt and pepper
6 garlic cloves, minced
1 bay leaf
1 tablespoon tomato paste
Pinch of crushed red pepper
Splash of white wine (optional)
2 large very ripe sweet tomatoes, chopped (about 2 cups)
3 or 4 zucchini or summer squash, chopped into roughly 1/2-inch cubes (about 3 cups)
½ pound romano beans, ends trimmed and cut into 2-inch lengths (about 2 cups)
2 cups small, dry pasta, such as pennette or orecchiette
½ pound small green beans, ends trimmed and cut into 2-inch lengths (about 1 1/2 cups)
For the pesto:
2 medium garlic cloves, coarsely chopped
Salt and pepper
2 cups basil leaves, loosely packed, washed and dried
1 cup parsley leaves, loosely packed, washed and dried
¾ cup extra-virgin olive oil
¼ cup grated Parmesan, plus more for serving
Set a large, heavy-bottomed soup pot over medium-high heat, and add olive oil. When oil is hot, add onion and season generously with salt and pepper. Cook, stirring frequently, until softened and just beginning to color, 5 or 6 minutes.
Add garlic, bay leaf, tomato paste and red pepper. Cook, stirring, for another minute, then add wine, if using, and tomatoes, and bring to a brisk simmer.
Add 8 cups water and a good pinch of salt and let mixture return to a brisk simmer. Cook for 10 minutes, then taste for seasoning. The broth should be well seasoned before the vegetables go in.
Make the pesto: As the broth simmers, pound the garlic and salt to a paste in a large mortar. Beginning with a few basil leaves at a time, pound basil to a paste, then add parsley leaves and a little salt. Continue to pound until all the basil and parsley have been pounded into a coarse green paste. (Alternatively, many people may wish to make the pesto in a food processor.)
Transfer to a serving bowl and whisk in olive oil and Parmesan. Taste and season with salt and pepper. Set pesto aside covered with a thin layer of oil or with plastic film pressed against its surface to prevent oxidation.
Add the zucchini, romano beans and pasta to the simmering broth and cook 7 to 8 minutes, until pasta is al dente. Add green beans and cook for a minute or 2.
Ladle soup into bowls, topping each with a dollop of pesto. Pass more grated Parmesan at the table.
If making the soup in advance, pasta may be cooked separately, drained and cooled, then added when soup is reheated.
This locally inspired recipe is brought to you by Pam Walker. Pam is an avid home cook, writer, and local farm and food activist who is also a board member of the Santa Fe Farmers' Market Institute. Thank you, Pam, for helping inspire us to use locally sourced ingredients!