Spinach salad and lemon vinaigrette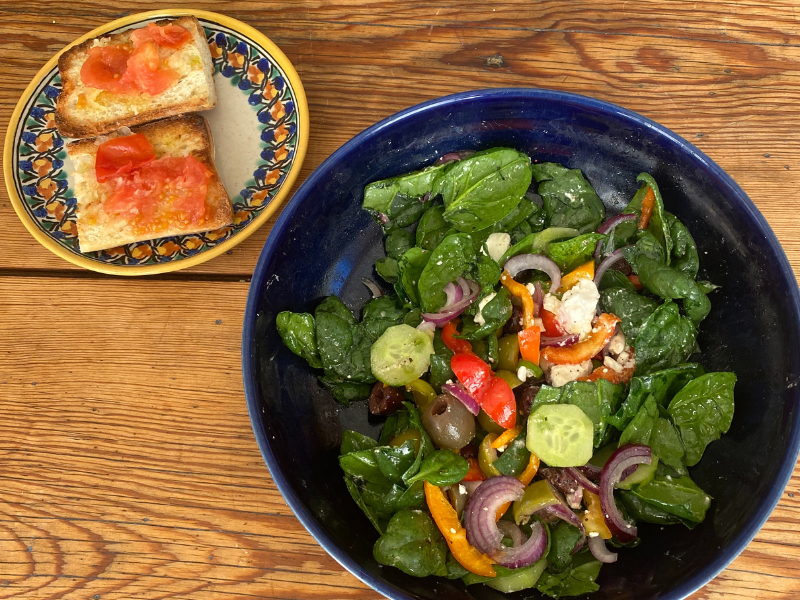 Now that our long, hot summer has ended and cooler temperatures have set in, spinach is returning to the market. I bought some especially tender spinach recently from Green Tractor Farm and made it into a salad for lunch that very day. To the spinach, I added slices of a cucumber from Khalsa and chunks of Camino de Paz goat feta hat I bought at the same market. I also added thin slices of a purple onion and of some bell peppers that I had on hand from a prior market, and I cut some green olives and kalamatas in half and tossed them in, too. The combination of flavors and textures was delicious. Others would be just as good –- add to the spinach whatever ingredients appeal to you and in the amounts that appeal to you.
Ingredients for the salad
Spinach

Cucumber
Goat feta
Purple onion
Bell peppers
Green and kalamata olives
For the dressing, I made one of my favorite vinaigrettes, a lemon vinaigrette from Deborah Madison's The New Vegetarian Cooking for Everyone. 
Ingredients for the vinaigrette
2 tablespoons fresh lemon juice

1 teaspoon finely chopped lemon zest
¼ teaspoon sea salt
1 shallot, finely diced
5 tablespoons olive oil
Freshly milled pepper
Combine the lemon juice, zest, salt, and shallot in a small bowl. Let stand for 10 minutes, then whisk in the oil and season with a little pepper to taste. Taste and correct the balance, adding more oil if needed.
This locally inspired recipe is brought to you by Pam Walker. Pam is an avid home cook, writer, and local farm and food activist who is also a board member of the Santa Fe Farmers' Market Institute. Thank you, Pam, for helping inspire us to use locally sourced ingredients!