Chile Paste for Red Turkey Pozole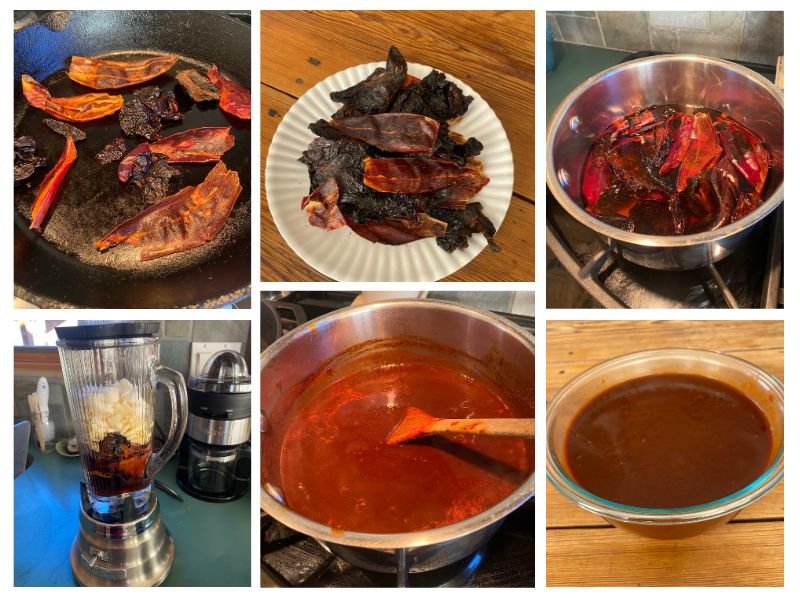 It's the time of year for posole and many other cold-season dishes. To prepare for a making a red turkey posole during Thanksgiving week, I recently made a chile paste and froze it. I'll pull it from the freezer when my pozole is in progress.
I'm following Steve Sando's "Red Chicken Pozole" recipe from his The Rancho Gordo Pozole Book, and substituting for the chicken he calls for part of the Lotus Farms turkey I'm getting the Saturday before Thanksgiving. (I use turkey and chicken interchangeably.) 
The chile paste turned out nicely – smoky and complex in flavor but not as complex as many moles. Nor is it overly picante. (I'm serving the pozole to friends who don't enjoy foods that are particularly spicy and complex.)  
I'll post about the pozole when I make it. For now, here's the recipe for the chile paste, in case you, like me, want a head start on a turkey pozole.
For a pozole that serves 8 to 12
Ingredients for red chile paste
2 ancho chiles, wiped clean with a moist towel

3 guajillo chiles, wiped clean with a moist towel
½ of an onion, chopped
6 garlic cloves, smashed and peeled
2 tablespoons oil or lard
Preparation for the chile paste
Cut chiles in half; discard seeds and stems. In a small saucepan, warm 2 cups of water over medium-low heat; turn off heat when the water is hot Meanwhile, warm a dry comal or skillet over medium heat; toast the chiles quickly, taking care not to let the chiles burn. Soak the toasted chiles in the pan of warm water for 15 minutes. Drain chiles, reserving the soaking liquid.

In a blender, combine the chiles, onion, garlic, and enough of the strained chile-soaking liquid to allow the blender blades to move. Blend well, scraping down the paste as needed, Use a wooden spoon to push the mixture through a fine-mesh sieve into a bowl, discarding skins and seeds.
In a large pot over medium heat, warm the oil until hot, 2 to 3 minutes. Add the chile paste and stir immediately. Reduce heat to medium-law; cook, stirring frequently, for 5 to 10 minutes. Taste and adjust seasoning as desired.
.
This locally inspired recipe is brought to you by Pam Walker. Pam is an avid home cook, writer, and local farm and food activist who is also a board member of the Santa Fe Farmers' Market Institute. Thank you, Pam, for helping inspire us to use locally sourced ingredients!